Today's First Item: ROBERT KING 2011 CALENDAR COMBO SET
Regular Retail Package Price: $21.90
Camofire Price: $10.49 – 52% OFF Retail
3 Different Calendars to choose from.
Bucks & Bulls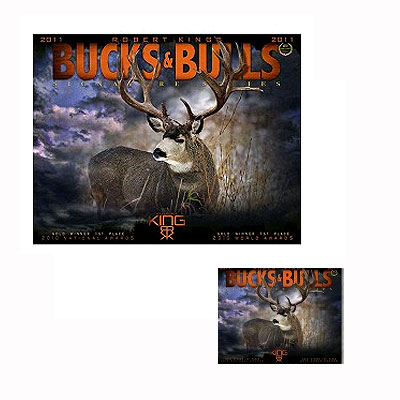 Description:
Nothing was held back this year. Robert King stepped up his game and brought the caliber of giant mule deer, whitetail, bull elk and big game that will have you dreaming of your hunt throughout all of 2011. Better than that is the fact that you get two calendars this year! Each calendar, with the exception of the Bull Elk comes with a mini version of the full sized calendar.
The Bull Elk comes with a Bucks & Bulls mini. The Mule Deer and Whitetail Deer calendars are packed full of giant non-typical bucks for 2011 – not to mention wide mulies, including the widest buck ever recorded in the Boone and Crockett scoring system pushing 50 inches! From Elk pushing 480 points, record sheep, giant bear, mule deer with big scores, gorgeous drop tines and massive spreads, and whitetail bucks that will set your heart rate in over drive these calendars will keep the dream alive in 2011.
Set it up in your office and surely you'll have more than one envious hunter drooling over the images you see every day, all year long!
—
Got something to say about the ROBERT KING 2011 CALENDAR COMBO SET? Tell the world by commenting below.