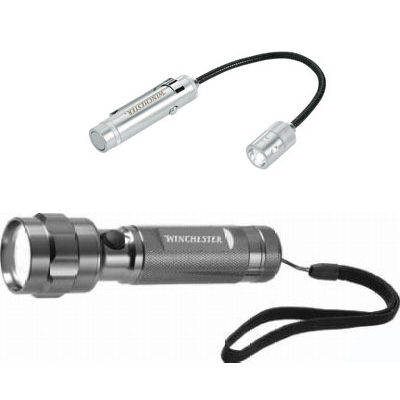 Product: Winchester Xenon-Tacti and Diode Tri-Flex Flashlight Combo
Regular Retail Price: $47.00
Camofire Price: $15.75 – 67% OFF
Description:
This lighting combo from Winchester takes the high powered Xenon-Tacti flashlight built with a solid aluminum casing and compliments it with the Diode Tri-flexi Light that features a 4 1/2″ flexible neck.
The high output Xenon light can cast an ajustable width beam 30 yards and is more rugged than most lights in its size range.
The Diode Tri-flexi light has a clip in case you need to clip it to the bill of a cap, pocket or any other location for a hands free super bright LED light that will never need replacing. The end of the tri-flexi is also magnetic. The world just got brighter thanks to Winchester.
The Diode Tri-Flexi comes with batteries but the
—
I've had the Xenon-Tacti light for a while now and it's bomber! I'm glad we're able to offer it up and to make the deal sweater we're basically tossing in the Diode Tri-Flexi for free
Got something to say about this light combo? Comment below.