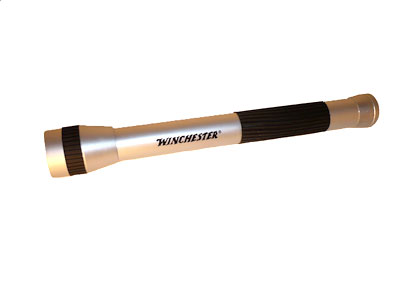 Product: WINCHESTER HUNT LIGHT BLOOD TRACKER
Regular Retail Price:$39.99
Camofire Price: $15.54 – 61% OFF
Description:
Losing that 6×6 bull elk after you got a great throat shot with your bow due to the sun setting is a real bummer. Just ask my friend John.
Don't let darkness make you lose the blood trail of any animal that you've shot. With the Winchester Hunt Light Blood Tracker it'll make finding the blood trail a breeze.
4 powerful L.E.D bulbs (2 red and 2 blue) combine to cast a beam of light up to 8 feet which will illuminate blood, giving you the advantage every time. Add to that a durable casing and Winchester's quality and it's a win-win.
—
Like I said above, my buddy John shot a 6×6 elk on the bow hunt this year after hours of calling it in and stalking it. Right after he shot it the sun went down and before he could find the elk it was too late. He came back the next day and it had rained. He never found his elk. This light would have come in handy to say the least!
Got something to say about this light? Comment below.