CAMOFIRE RELOADED!
We've got number of hunting deals coming your way today that will be at 40%-70% off, featuring deals from VOLCANO, KERSHAW, CORE4ELEMENT, RINEHART, BADLANDS, AND EASTON to name a few. Be sure to check out all of the Reloaded deals available. Get ready to pull the trigger!
Some of the Camofire Reloaded deals for today will include(not in this particular order):
VOLCANO LITE BACKPACKING STOVE AND POT COOK SET
RINEHART TOM TURKEY 3D TARGET
BUCK ERGOHUNTER SELECT GUT HOOK KNIFE
ZEISS CONQUEST 4.5-14X50 RIFLESCOPE
CORE4ELEMENT ELEMENT JACKET
HUNTERS SPECIALTIES STRUT DELTA WOODY TURKEY DECOY
TEAM REALTREE LIGHT TACKLE GORETEX FISHING PANT
SCENTBLOCKER FANNY PACK
AVERY BOATERS DOG PARKA
RINEHART RHINO BLOCK XL TARGET
SOG FASTHAWK TACTICAL TOMAHAWK
CORE4ELEMENT 2012 PIVOT TECH SHORT SLEEVE
CORE4ELEMENT SELWAY 1/4 ZIP TOP
BULLDOG DELUXE NEOPRENE PADDED GUN SLING
ROCKY L2 PERFORMANCE MOBILITY LOGO HOODIE
SOG FIELD PUP II KNIFE WITH LEATHER SHEATH
PRINCETON TEC FUEL 3 LED HEADLAMP
EASTON GAME TRAIL HYDRATION DAY BACKPACK
ROCKY BROADHEAD CARGO PANT
TEAM REALTREE RUBLINE GORETEX JACKET
…and many more deals!
Today's First Shooter – VOLCANO LITE BACKPACKING STOVE AND POT COOK SET
Suggested Retail Price: $95.89
Camofire Price: $57.99 – 40% OFF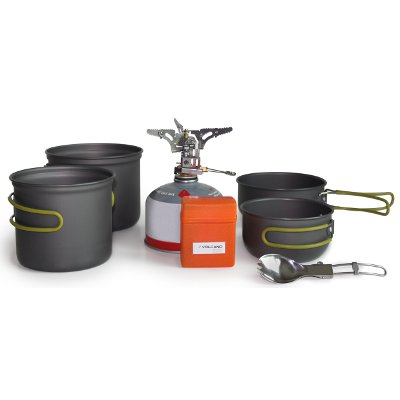 Volcano is best known for its superior camp stoves and heavy duty dutch oven style cookers, but with the new Volcano Lite line they have taken the same indestructible construction to a lite backpacking stove and cook set that will perform each and every time.
This set includes everything that they offer for the Volcano Lite series: the mini-burner, 4-piece cook set and aluminum spork. This package is perfect for backpacking as everything fits into the cook-set for space preservation. When you want to go lite, take the smaller of the two sets of cooking pots and trim the ounces. At just 3 ounces, the stove is super reliable to ignite without a match.
The cook set is built of high-quality, lightweight anodized Aluminum that won't stick. Each pot has a rubber coated handle for safe handling when boiling water or cooking. The collapsible spork is a must for a lightweight backpacking option that does it all. Get your backcountry cook set dialed in with the Volcano Lite complete set.
—
Got something to say about the VOLCANO LITE BACKPACKING STOVE AND POT COOK SET? Speak your mind by commenting below.