NEW – Triple Your Extra Item Pleasure!
Once you Pull the Trigger on Camofire.com, you now have the ability to add 3
different extra items at a deep discount to your cart instead of just one, and all for
NO ADDITIONAL SHIPPING!
This is just the first of more MAJOR changes coming soon to Camofire! So get stoked, head on over to check it out and keep your eyes open for more coming soon!
TODAY'S RAPID FIRE LINE UP
Today we have 5 deals coming your way. Deals may go fast and will either sell our or will go until the timer reaches zero, after which the next hunting deal will arrive. Get ready to pull the trigger!
Some of the hunting deals for today will include:

VOLCANO 3 COLLAPSIBLE PROPANE GRILL (40% off)
BEMAN ICS CAMO HUNTER ARROWS (43% off)
SIMMONS PRO HUNTER 7MP NIGHT VISION TRAIL CAMERA (55% off)
RUSSELL EXPLORER BIB OVERALLS (85% off)
BADLANDS ELEMENT BASE LAYER BOTTOMS (33% off)
CORE4ELEMENT ELEMENT PANT (33% off)
Today's First Shooter – VOLCANO 3 COLLAPSIBLE PROPANE GRILL
Suggested Retail Price: $199.99
Camofire Price: $119.99 – 40% OFF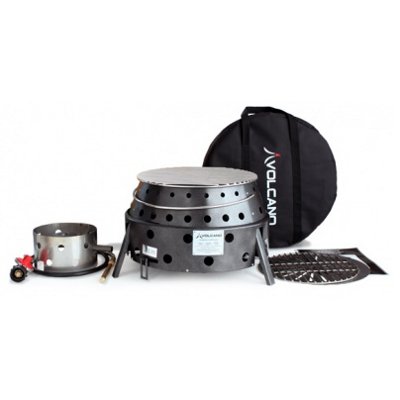 The Volcano 3 Collapsible Propane Grill is one of the most versatile grills on the market today. From the backyard to the great outdoors, this 3-fuel cooker allows you to cook whatever you want, whenever you want. This is Volcano's most popular model because of unique features like it's tri-fuel capability and a combo of a large variety of cooking options with easy portability.
This Volcano collapses down to 5" and is easily transported in the included storage bag. This model can be used with Charcoal, Propane or Wood and is highly efficient.
—
Got something to say about the VOLCANO 3 COLLAPSIBLE PROPANE GRILL? Speak your mind by commenting below.