VANGUARD LEADER M62 GUNPOD SHOOTING STICK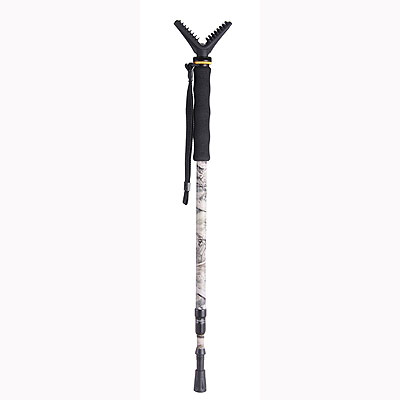 Product: VANGUARD LEADER M62 GUNPOD SHOOTING STICK
Regular Retail Price: $59.99
Camofire Price: $23.85 – 60% OFF
Description:
The Leader series gun pods from Vanguard are constructed of lightweight aluminum with adjustable length for use from a treestand, in the field sitting or standing. They are easy to adjust. The rubber material V-shaped yoke swivels a full 360 degrees to give you the ability to move your shot at will. The yoke will twist off allowing you to mount a spotting scope, binoculars or a camera on the mono-pod.
The twist leg locks are easy to adjust, and the foam hand grip provides a comfortable grip while the wrist strap will come in handy when you're looking through your spotting scope of binos. The bottom has a steel spike as well as a rubber covering for grip on solid surfaces or rock. You can use the included carabiner to clip the gun pod onto your pack or to your treestand and you're ready to go.
—
Got something to say about the VANGUARD LEADER M62 GUNPOD SHOOTING STICK ? Tell the world by commenting below.