TRIPLE HEADER Today we're running a Triple header. The first one will run until noon MST, the second will then start and run until 6pm MST after which a third deal will follow up.
Today's Triple Header
MONTANA DECOY WHITE TAIL BUCK DECOY (55% off)
LEUPOLD RX 1000 RANGEFINDER (38% off)
TEAM REALTREE SHORT SLEEVE CAMO SHIRT (55% off)
Today's Featured Deal: MONTANA DECOY WHITE TAIL BUCK DECOY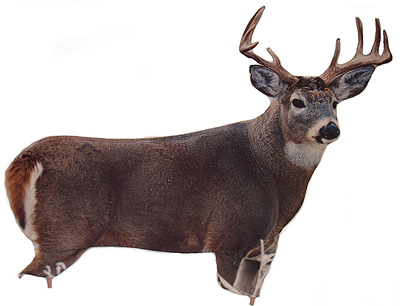 Suggested Retail Price: $79.99
Camofire Price: $24.99 – 55% OFF
Description:
Whitetail bucks are notoriously wary. Put the advantage in your tree stand with the White Tail Buck Decoy from Montana Decoy. With it's life like appearance, light weight, compact design and fast set up this decoy can not be beat. This Whitetail Deer decoy is constructed of a durable polyester fabric with a spring steel band inside the body to hold the body erect. To support the Decoy, fiberglass poles (included) with step stakes are used. The decoy body has a high quality picture printed on both sides, giving the 2D decoy that 3D look.
Not convinced? Jerry McPherson's video of a buck trying to mount his whitetail doe decoy attests to how realistic they are, or how confused a buck hopped up on testosterone can become. Not only did the buck try to mount the decoy, but when the decoy fell over, it tried to prop it back up using its antlers. With the buck decoy, you'd better shoot the challenger before he puts the hurt on your Montana Decoy. they are flexible enough to stuff and conform into your pack.
Lightweight, durable, compact, realistic and effective – everything a serious hunter is looking for! Believe the hype, Montana Decoys are for real.
—
Got something to say about the MONTANA DECOY WHITE TAIL BUCK DECOY? Tell the world by commenting below.