CAMOFIRE RELOADED!
We've got number of hunting deals coming your way today that will be at 40%-70% off, featuring hunting gear from TRIBEONE, EASTON, AMERISTEP, BROWNING, VANGUARD, REDINGTON and others. Be sure to use the arrows to check out all of the Reloaded deals available. Get ready to pull the trigger!
Some of the Camofire Reloaded deals for today will include(not in this particular order):

TRIBEONE OUTDOORS GEAR NET SET
SOG SEAL PUP ELITE FIXED BLADE KNIFE
CORE4ELEMENT ELEMENT PANT
EASTON KILO 2P ULTRALIGHT 3-SEASON BACKPACKING TENT
NATURAL GEAR ALL WEATHER PARKA
CORE4ELEMENT 2012 MERINO 190 BASE LAYER BOTTOM
LEICA 10X42HD ULTRAVID BINOCULARS
EASTON ST EPIC REALTREE HD N-FUSED ARROWS
AMERISTEP BACKSTRAP GROUND BLIND
CARBON EXPRESS THE CRUSH DOZEN ARROWS WITH VANES
EASTON AXIS N-FUSED FULL METAL JACKET DOZEN ARROWS
CORE4ELEMENT STALKER BEANIE
BULLDOG HYBRID MAGNUM RIFLE CASE
VANGUARD ABEO 323 AV ALUMINUM TRIPOD W/ PH114 AV 2 WAY PAN HEAD
BROWNING TAGGED OUT KNIFE AND CAP LIGHT COMBO
WHITEWATER 3D REALLEAF TURKEY HUNTING VEST
CORE4ELEMENT SELWAY 1/4 ZIP TOP
CORE4ELEMENT ASSAULT MIDWEIGHT 1/4 ZIP SHIRT
…and many more deals!
Today's First Shooter – TRIBEONE OUTDOORS GEAR NET SET
Suggested Retail Price: $59.99
Camofire Price: $24.99 – 58% OFF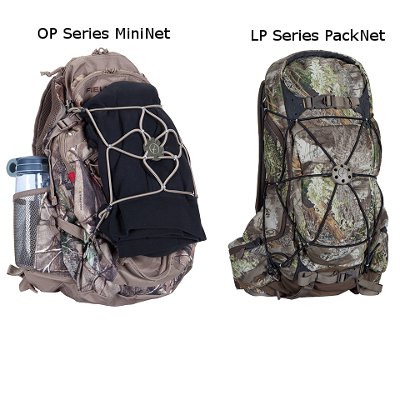 The LP and OP Series PackNet™ are a very unique and ingenious system for carrying extra gear on just about any object made from fabric, especially a hunting or backpacking pack. Made from high strength military spec shock cord utilizing a unique center hub and a flexible two-loop adjustment system, the net attaches tightly to any location on your pack without damaging or creating a weakness in the pack fabric or structure.
This product is an ideal solution for securing gear the exterior of your pack, thanks to the unique design of the PackNet™ it will tightly hold gear at any location on your pack no matter how many items you decide to carry. Ideal for long hikes in where you may have extra gear or better yet for long hikes out when your gear must be stowed on the outside because you're hauling elk meat on the inside.
The secret is in the highly innovative Tribe One PackTach­™ System that allows you to create a hook point to any location on your pack. A system like this will have you wishing you had the LP or OP last year on your hunts but grateful as you head into the mountains this year and for many to come.
—
Got something to say about the TRIBEONE OUTDOORS GEAR NET SET? Speak your mind by commenting below.