CAMOFIRE RELOADED!
We've got number of hunting deals coming your way today that will be at 40%-70% off, featuring deals from TOXIC, BRUNTON, BUCK KNIVES, KERSHAW and SCENTBLOCKER to name a few. Be sure to check out all of the Reloaded deals available. Get ready to pull the trigger!
Some of the Camofire Reloaded deals for today will include(not in this particular order):

TOXIC FIXED BLADE BROADHEAD 3-PACK
BRUNTON ICON SPOTTING SCOPE
DUCKS UNLIMITED FULL CUSHION WOOL BLEND HIKING SOCK 2-PACK
PRINCETON TEC REMIX 125 LUMEN HEADLAMP
SCENTBLOCKER S3 DOWNPOUR JACKET
BUCK ERGOHUNTER SELECT CAPING KNIFE
KERSHAW BLACK HORSE II HUNTING KNIFE
FINAL APPROACH ELIMINATOR CARGO BLIND
BUSHNELL MENS 10 in. XLANDER HUNTING BOOT
BROWNING LOGO YOUTH TEE SHIRT
BUCK OMNI HUNTER FIXED BLADE KNIFE
ZEISS CONQUEST 3.5-10X50 RIFLESCOPE
BIG AGNES SHOESTRING SL 22 DEGREE SLEEPING BAG
LONE WOLF DP HUNTER FIXED BLADE KNIFE
HUNTERS SPECIALTIES STRUTIN TOM TURKEY CALL 4 PACK
LANSKY DELUXE QUICK EDGE SHARPENER
REDINGTON SONIC-PRO ZIP FRONT WADER
KERSHAW FIELD KNIFE
…and many more deals!
Today's First Shooter – TOXIC FIXED BLADE BROADHEAD 3-PACK
Suggested Retail Price: $44.99
Camofire Price: $23.50 – 48% OFF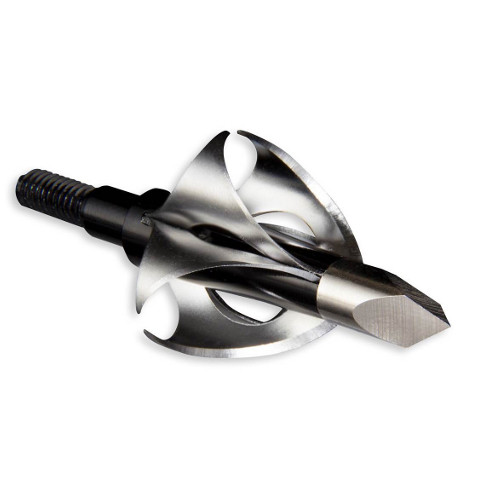 Start shooting tighter groups and see field point accuracy with the Toxic Broadhead by Flying Arrow Archery. This advanced broadhead is surgically sharp and offers extreme accuracy. These broadheads feature a unique low profile which reduces wind drag which makes for more accurate shots while in tough conditions, the low profile also makes arrow flight extremely quiet.
The Toxic Broadheads do not have any moving parts, set screws, or rubber bands so there is less chance for failure while in the field. What makes the Toxic Broadhead second to none is its 5″ of cutting surface which leaves a wound channel that has been described by a surgeon as a "Radical Core Decompression" wound – the most lethal of wounds.
—
Got something to say about the TOXIC FIXED BLADE BROADHEAD 3-PACK? Speak your mind by commenting below.