CAMOFIRE RELOADED!
We've got number of hunting deals coming your way today that will be at 40%-70% off, featuring hunting gear from FLYING AROW ARCHERY, BEMAN, HUNTERS SPECIALTIES, LANSKY, KERSHAW and GEORGIA BOOT to name a few. Be sure to use the arrows to check out all of the Reloaded deals available. Get ready to pull the trigger!
Some of the Camofire Reloaded deals for today will include(not in this particular order):

TOXIC FIXED BLADE BROADHEAD 3-PACK
BEMAN ICS CAMO HUNTER SHAFTS
TRUGLO TRU-TEC ARCHERY QUIVER
KERSHAW CAMP 14in MACHETE
CORE4ELEMENT 2012 CAMO MERINO 190 CREW TOP
EASTON FULLBORE PACK
GEORGIA BOOT CROSSRIDGE HIKER 6 INCH MOUNTAIN BOOT
CORE4ELEMENT SWITCHBACK PANT
LONE WOLF MOUNTAINSIDE SKINNING KNIFE
HUNTERS SPECIALTIES STRUT DELTA WOODY TURKEY DECOY
GERBER BEAR GRYLLS ULTIMATE FIXED BLADE SURVIVAL KNIFE
LANSKY STANDARD SHARPENING TOOL
AMERISTEP BACKSTRAP GROUND BLIND
HUNTERS SPECIALTIES WICKED 6 PREDATOR CALL KIT
BRUNTON MEAL DEAL ADVENTURE DOG BOWL
WHITEWATER LIGHTWEIGHT HALF MASK
KLYMIT CUSH INFLATABLE BACKCOUNTRY PAD
CARBON EXPRESS CRUSH DOZEN SHAFTS
KERSHAW ONE-TON KNIFE
CORE4ELEMENT MID MOUNTAIN HOODIE
HUNTER'S SPECIALTIES TEK 4 HEAVY WEIGHT OVER THE CALF HUNTING SOCK
LONE WOLF GUTTING TOOL
…and many more deals!
Today's First Shooter – TOXIC FIXED BLADE BROADHEAD 3-PACK
Suggested Retail Price: $44.99
Camofire Price: $22.50 – 50% OFF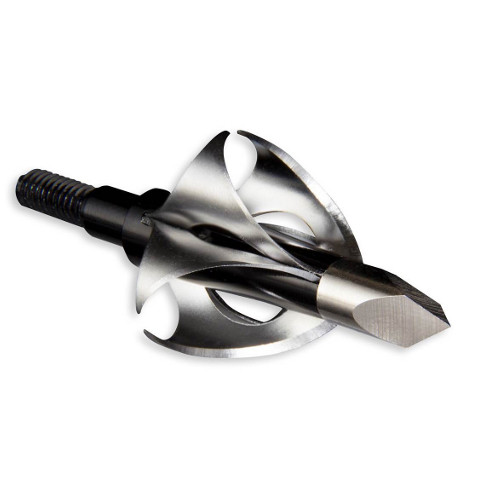 Start shooting tighter groups and see field point accuracy with the Toxic Broadhead by Flying Arrow Archery. This advanced broadhead is surgically sharp and offers extreme accuracy. These broadheads feature a unique low profile which reduces wind drag which makes for more accurate shots while in tough conditions, the low profile also makes arrow flight extremely quiet.
The Toxic Broadheads do not have any moving parts, set screws, or rubber bands so there is less chance for failure while in the field. What makes the Toxic Broadhead second to none is its 5″ of cutting surface which leaves a wound channel that has been described by a surgeon as a "Radical Core Decompression" wound – the most lethal of wounds.
—
Got something to say about the TOXIC FIXED BLADE BROADHEAD 3-PACK? Speak your mind by commenting below.