Today's First Item: TIMBER HAWK BASE CAMP ROLLING DUFFEL BAG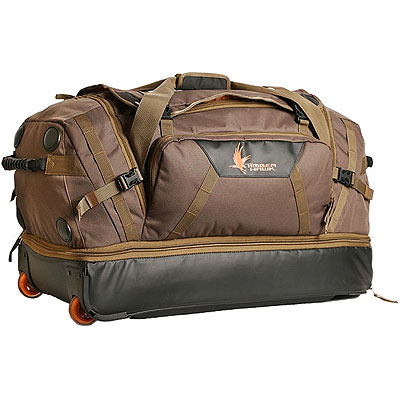 Regular Retail Price: $189.99
Camofire Price: $88.89 – 53% OFF
Description:
Travel these days can take you far and wide and the last thing you want to do is have a bag that won't hold up, especially if you're headed on a hunt that will take you through airports, on long bus rides and on rugged muddy roads while your gear is hanging out in the back of a truck. When you need to bring along all your gear the Base Camo Rolling Duffel Bag from Timber Hawk is the ticket.
Built bombproof tough with high-capacity and solid materials, it's designed with the hunter in mind including features like the lower area that is rubber sealed to keep the mud and water away from your clothing. At 6800 cubic inches of space you'll wonder what you didn't bring along but the high grade inline skate wheels and telescoping pull handle will have you gliding through airports with ease.
The durable plastic underside will stand up to anything the back of the truck or the airport baggage guys can dish out and the best part of all is that this quality duffel won't cost you an arm or a leg but will last for years.
—
Got something to say about the TIMBER HAWK BASE CAMP ROLLING DUFFEL BAG? Tell the world by commenting below.