Today's First Deal: TIMBER HAWK BACK STRAP FANNY PACK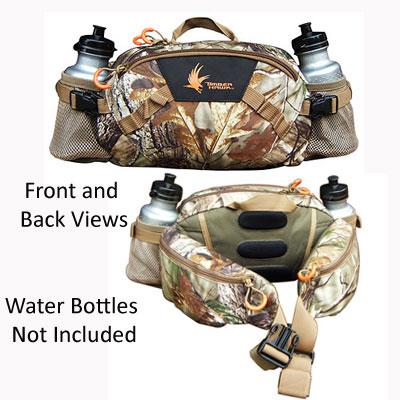 Regular Retail Price: $44.99
Camofire Price: $19.59 – 56% OFF
Description:
Do you really need all that stuff and that monster pack when you're only going to venture a short distance from camp on a day hunt? Don't wait for a situation like forgetting your pack at home to make you try a light and fast fanny pack like the Back Strap from Timber Hawk.
Although it's the smallest pack in the Timber Hawk line, the Back Strap is big on performance as well as fit and function. This model is perfect for hunters who prefer to travel light with 340 cubic inches of space in the main pack area with two very useful and handy pockets on the waist strap that fit small items like a cow call or pocket knife. The external compression straps allow you to secure items like a jacket or bugle.
This little pack was designed with the old Boy Scout motto in mind: 'Be Prepared.'
—
Got something to say about the TIMBER HAWK BACK STRAP FANNY PACK? Tell the world by commenting below.
NEW FROM TIMBER HAWK – Hunter's Checklist iPhone App – Check it out here
About the App:
Hunter's Checklist and GPS app for the iPhone, sponsored by Timber Hawk — A must-have for hunters who want to be prepared in every way, from bringing the right gear, to contacting your state's DNR office, to finding your tree stand in the dark.
Checklist —
Helps you keep track of the items you might need on a hunting trip, using a complete "General" list, as well as specific lists for archery, rifle, muzzleloader and waterfowl hunting. The user can also add new items to any of the lists, and email the lists to others who might be going on the same trip.
GPS —
By using the "Map Tagging" GPS function the user can pinpoint locations on a satellite map, tag that location, and save it in a folder. User can also tag the location by taking a photograph, which can be shared or stored in an album. Best of all, any photograph taken has the GPS coordinates stamped on the image, in the lower left-hand corner. Altitude is also recorded, where available.
DNR Offices by State —
Instantly call, or connect to the website of any DNR office in the country simply by using a scroll wheel to select your state.