Deals for today will include (not in this particular order):
TEAM REALTREE FLYWAY WATERFOWL JACKET (60% off)
HUNTERS SPECIALTIES SUV HUNTING VEST(56% off)
CRKT MUK FISHING KNIFE (60% off)
LUCKY BUMS 3 in 1 JACKET (50% off)
First Deal for Today: TEAM REALTREE FLYWAY WATERFOWL JACKET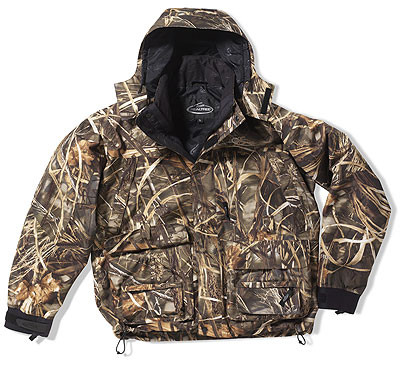 Regular Retail Price: $299.95
Camofire Price: $119.99 – 60% OFF
Description:
TAKE 'EM! From the truck to the blind with everything that mother nature throws your way before and after you nail that green head or those honkers, the REALTREE FLYWAY JACKET is up for the task. Utilizing Goretex material for a complete waterproof and breathable shell, this jacket is going to keep you dry from the rain and snow as well as warm from the cold northern wind so that you'll be ready to TAKE 'EM without being victim to the elements.
Pockets are everywhere, 9 of them to be exact, with call and ammo pockets and other quick access hand pockets that are magnetically sealed for easy access without the hassle of a zipper. The wrists have a neoprene gaiter on them with velcro cinch strap to keep the water out when you dip your hand in the water to get your deeks.
A lot of thought and time went into this jacket so that you could keep focused on one thing while you're in the blind. A better waterfowl jacket will be near impossible to find.
—
Got something to say about the TEAM REALTREE FLYWAY WATERFOWL JACKET? Tell the world by commenting below.