COMBINED SHIPPING You asked for it, we listened. Combined shipping is here.
We are very happy to announce that you will now have the opportunity to select a shipping option called "Combined Shipping" which will allow you to purchase multiple orders and combine them for up to 7 days. In a nutshell this is how it will work:
You'll need to login in order to get started. IF you don't have an account, you can now go to the "MY ACCOUNT" page and create one. IF you've lost or forgotten your password, the "MY ACCOUNT" page will help you remember or reset your password.
Select "Combined Shipping" on any order for the process to start. We'll hold that order rather than ship it out within 24 hours as we tpyically do.
After paying the regular shipping on that first order, all subsequent itmes (not orders, items) that you order within the next 7 days will only cost you $.99 shipping per item.
After 7 days we'll bundle all your items together and ship it out in one package.
This will save you $ on shipping, save Brown from coming to your house every day and likely save your marriage so your spouse doesn't see that you're pulling the trigger every day!
For more details on Combined Shipping and how it works, visit the Shipping Policy page link found on the bottom of the Camofire.com home page.
Today's First Hunting Deal: TEAM REALTREE BIG GAME HUNTING JACKET
Today's Extra Item: TEAM REALTREE BIG GAME HUNTING BIBS/PANTS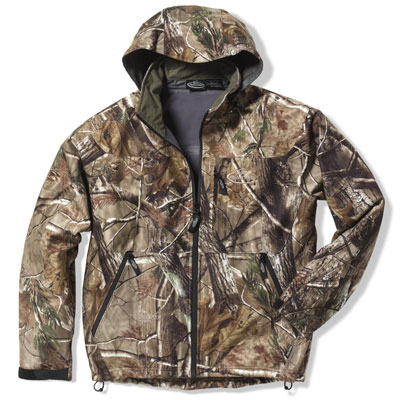 Suggested Retail Price: $349.00
Camofire Price: $144.80 – 58% OFF
Description:
Do you demand the best technology and function in a hunting jacket? If you don't, well…you may not want to read on. But if you do then the Team Realtree Big Game Jacket made with GORE-TEX soft shell and a hit of fleece as a liner insulator is the one for you. Made using exclusive GORE-TEX patented soft shell technology that is totally waterproof and seamed sealed this jacket will impress from the moment you put it on.
Unlike others on the market that claim to be waterproof and do not tape their seams, the Big Game has a proprietary and patented method to seam seal the fleece inside to prevent leakage. We know what it takes to impress hunters and sportsman alike and this jacket is one of the finest we have ever set eyes upon. The jacket gets softer with each washing and thus is extremely durable and quiet.
The Big Game GORE-TEX hunting jacket features a comfortable fit with a slightly longer back with a roll-up GORE-TEX Paclite hood that stows into the collar. Vertical chest pockets, waterproof zippers and waterproof storage pockets round out the features. Step up to the big leagues with the Big Game Jacket and stay dry, warm and quiet on your hunts this for years to come.
—
Got something to say about the TEAM REALTREE BIG GAME HUNTING JACKET? Tell the world by commenting below.