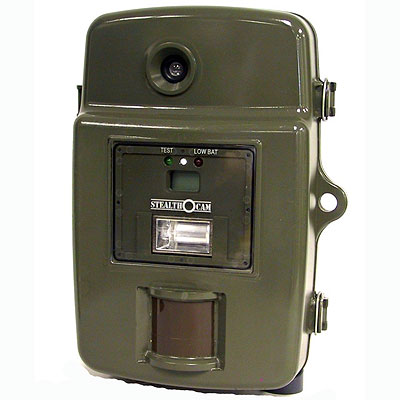 Product: Stealth Cam STC-AD3X Scouting Camera
Regular Retail Price: $299.99
Camofire Price: $125 – 58% OFF
Description: Scouting for elk, deer, bear, or whatever you're hunting just got easier with the Stealth Cam STC-AD3X Scouting Camera.
This trail cam is just the edge you need to find out what animals are frequenting trails, watering holes, wallows and more. It mounts on a tree and with it's 90ft flash range and 3.0 color megapixel images it'll be like Christmas morning each time you check out the photos you've gotten.
The motion sensor can be programed to reset from 1-60 minutes in between motion. The housing is bomber and will perform through any weather mother nature throws at it.
Don't leave your next hunt to chance – a stealth cam may mean the difference between getting the trophy buck or hearing about the trophy buck some guy got one ridge away.
—
I think I'm going to mount one of these things on my garage door so I can find out how often that little yappy black dog from up the street is in my yard. Man do I hate that little dog.
Aside from that, I'm stoked to put one of these up in the woods on at my favorite hunting spot.
Got something to say about this stealth cam? Comment below.