THE LINE UP:
Today we've got 4-5 deals in the line up as we Rapid Fire through them. Watch the timer on the Camofire homepage for each item to change. If one sells out the next shooter will show up.
The deals for today are:
STEALTH CAM PROWLER HD 8.0 TRAIL CAMERA (57% off)
BROWNING FULL CUSHION WOOL BLEND SOCKS 2-PACK (55% off)
ROCKY YOUTH VITALS LONG SLEEVE T-SHIRT (59% off)
KERSHAW WHISKEY GAP KNIFE (60% off)
TOOL LOGIC SL KNIFE WITH PLIERS (76% off)
Today's First Shooter: STEALTH CAM PROWLER HD 8.0 TRAIL CAMERA
Suggested Retail Price: $299.99
Camofire Price: $129.99 – 57% OFF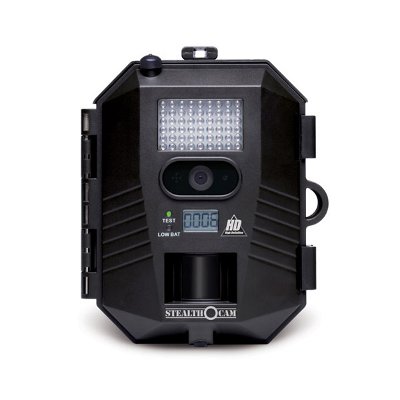 Description:
As you walk up to the Stealth Cam Prowler HD 8.0 Trail Camera there will be no doubt in your mind if this camera got the picture or not. If an animal walked within the 30 ft range you can rest easy knowing that a picture was taken. With the capability of taking 8.0 megapixel still pictures and 1280 X 720 High Definition digital video this camera will soon be replacing your old trail camera that only took still images.
When set in BurstMode this camera will take 1-9 images per triggering. The Prowler HD has 64 MB of built in memory but also has the capabilities of accepting up to 16GB SD cards. With a test light and low battery light visible on the front of this unit setting up and checking battery juice is simple. We've used this camera and found it to be one of the most reliable and consistently working trail cameras with top quality images. A dependable camera for every hunter, the Stealth Cam Prowler HD 8.0 Trail Camera will give you peace of mind and images worth bragging about.
Editor's Note: I've personally used this camera and even had a bear bite it and without fail it's the most reliable camera I own. Although I have smaller ones, when I need a camera that will be without question working 100% of the time, regardless of how far in, I choose this camera. Battery life for me has been excellent, with 3 months and 1500+ images of use an only 1/2 the battery life gone last summer when I used it.
—
Got something to say about the STEALTH CAM PROWLER HD 8.0 TRAIL CAMERA? Tell the world by commenting below.