THE LINE UP:
Today we've got 4-5 deals in the line up. We will Rapid Fire through them every few of hours so be sure to watch the timer on the Camofire homepage for each item to change. If one sells out the next shooter will show up.
The hunting deals for today will include:
SPYPOINT PRO-X PLUS TRAIL CAMERA (56% off)
LEUPOLD OLYMPIC 8x25mm COMPACT BINOCULAR (49% off)
HIDEAWAY WATERFOWL BIRD CARRIER (74% off)
BROWNING WOMEN'S FLORAL LOGO TEE – SIZE WOMEN'S MED ONLY (67% off)
LEUPOLD RX 1000 RANGEFINDER (43% off)
NIKON 10×42 EDGE BINOCULARS (44% off)
Today's First Shooter – SPYPOINT PRO-X PLUS TRAIL CAMERA
Suggested Retail Price: $399.99
Camofire Price: $174.50 – 56% OFF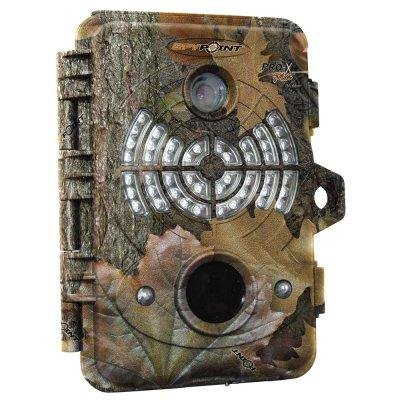 Description:
All trail cameras are not created equal and with that in mind SpyPoint created the Pro-X Plus which is one of the most robust all inclusive trail cameras on the market. Delivering 12.0 megapixels in color images by day and black and white images by night in addition to a 640×480 video recording with sound, the Pro-X Plus stands far above the competition. Want immediate review of your images while in the field?
Thanks to the 3″ color built in viewing screen you can immediately review images in the field, see what is going on at your camera location and make adjustments to your set up rather than just swapping out the SD card like most compact cameras. The SD card capacity is 32 GB and what we've found on similar SpyPoint cameras is that the extended battery life is the real deal – it may last you months on just one set of AA batteries.
On top of that the 5×7 compact size running on won't weight you down as you head out to put up a few trail cameras, no matter how far you have to hike in order to do so. The SpyPoint Pro-X Plus is a hunter's best edge for scouting up your next trophy buck.
—
Got something to say about the SPYPOINT PRO-X PLUS TRAIL CAMERA? Tell the world by commenting below.