THE LINE UP:
Today we've got 4-5 deals in the line up. We will Rapid Fire through them every few of hours so be sure to watch the timer on the Camofire homepage for each item to change. If one sells out the next shooter will show up.
The hunting deals for today will include:
SOG TRIDENT MINI ASSISTED OPENING KNIFE (56% off)
AA&E HEAVY DUTY NYLON SHOTGUN GUN SLING (70% off)
CORE4ELEMENT TALUS BELT (55% off)
LIBERTY BOTTLE WORKS ALUMINUM WATER BOTTLE (48% off)
BOHNING LYNX 6-ARROW DETACHABLE BOW QUIVER (55% off)
SOG AURA HUNTING KNIFE (56% off)
Today's First Shooter – SOG TRIDENT MINI ASSISTED OPENING KNIFE
Suggested Retail Price: $85.00
Camofire Price: $36.99 – 56% OFF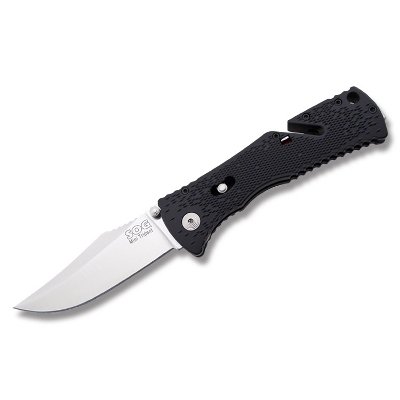 Description:
The SOG Trident Mini Assisted Opening Knife is the perfect knife for hunting, hiking, or every day use. It is easily opened with the SOG Assisted Technology and springs opened for quick use. The Trident Mini features a patent pending Groove™ in the handle, which allows the operator to cut paracord, fishing line, etc. without having to open the blade.
The handle also includes a Digi-Grip™ variable pattern for coarser grip in areas that require it. The blade is constructed of AUS 8 steel and it keeps a sharp edge and also is easily sharpened. The Trident Mini has a built-in safety to lock the blade closed. When it shows red, you are ready to go.
The low carry reversible bayonet pocket clip makes the Trident Mini easy and comfortable to carry. For an all around knife the SOG Trident Mini is perfect for any person.
—
Got something to say about the SOG TRIDENT MINI ASSISTED OPENING KNIFE? Tell the world by commenting below.