THE LINE UP:
We've got 3-4 deals in the line up today. Watch the timer on the Camofire homepage for each deal to change, that is unless one sells out the next shooter will show up.
The deals for today are:
SOG TRIDENT DIGI CAMO KNIFE (56% off)
RUSSELL APXg2 L5 WHITEOUT JACKET – Medium only (66% off)
KERSHAW PRO GRADE NARROW FILET KNIFE (60% off)
NATURAL GEAR INSULATED STEALTH HUNTER JACKET (56% off)
Today's First Shooter: SOG TRIDENT DIGI CAMO KNIFE – Available in Tanto blade or Partially Serrated blade
Suggested Retail Price: $124.25
Camofire Price: $54.67 – 56% OFF
Partially serrated drop point blade configuration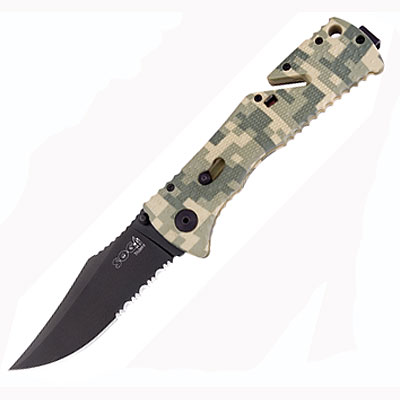 Tanto blade, straight edge blade configuration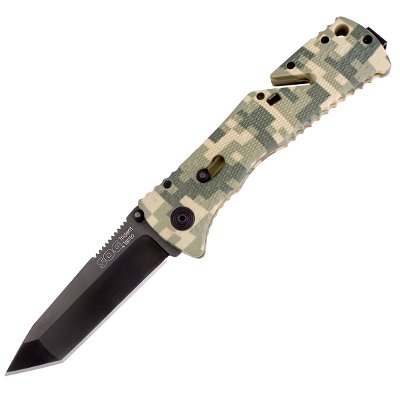 Description:
At just over 3 ounces the SOG Trident may be lightweight in feel but it's a heavyweight in performance and features. It uses their well-proven means of delivering a knife blade to the open position with S.A.T. (SOG Assisted Technology™). And by using the patent pending Arc-Actuator™, the Trident knife locks stronger and releases easier than the competitors. There is also a built-in safety to lock the blade closed so that the assisted opening doesn't happen without reason or purpose.
What also makes the Trident so unique is the patent pending Groove™ in the handle, which allows you to cut paracord, fishing line, etc. without having to open the blade. The handle also includes a Digi-Grip™ variable pattern for coarser grip in areas that require it. The bayonet style clip is easily switched for right/left hand carry or removed for pouch storage. This knife is not only great for hunting but makes an all purpose quality knife for every day use.
—
Got something to say about the SOG TRIDENT DIGI CAMO KNIFE? Tell the world by commenting below.