RAPID FIRE:
We've got 3 deals in the line up today. Each item will end when the timer hits zero OR if it sells out before the time is done it'll automatically move on to the next deal.
SOG SEAL PUP KNIFE (53% off)
ALPS MOUNTAINEERING WALKER FANNY PACK ( (48% off)
S4GEAR SIDEWINDER ION RETRACTABLE TEATHER SYSTEM (54% off)
First Deal for Today: SOG SEAL PUP KNIFE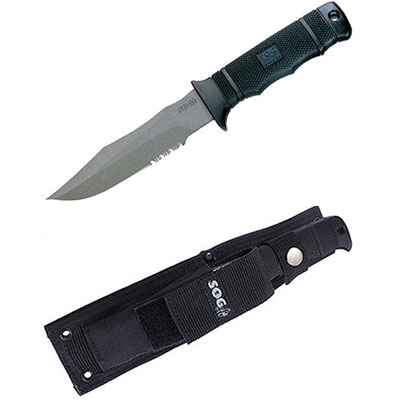 Regular Retail Price: $95.00
Camofire Price: $43.68 – 54% OFF
Description:
The Seal Pup from SOG has seen action around the world. Intended for military personnel, it's found its way into many a spike camp and hunting pack as one bad to the bone sharp-as-ever knife. This edition of the SEAL family of knives has the powder coated non-reflective finish. This particular model comes complete with a very strong nylon sheath that will carry a sharpening stone or a multi-tool on the front of it. The ergonomic handle with finger groves feels perfect in your hand and the extremely durable zytel handle with the thick steel stock give it a balance and feel that is near impossible to match among imitators. Improved handle grip on the sides and top of the handle with raised a diamond pattern will keep it in your hand despite being wet from blood or sweat as you quarter up your trophy buck. The blade shape has a long cutting edge and spine rasp for notching as well as a generous thumb placement. Don't outguess the Seal Pup, it's the real deal when it comes to a tough long lasting wicked sharp fixed blade knife.
—
Got something to say about the SOG SEAL PUP KNIFE ? Tell the world by commenting below.