THE LINE UP:
We've got 3-4 deals in the line up today. Watch the timer on the Camofire homepage for each deal to change, that is unless one sells out the next deal will show up.
The deals for today are:
SOG POWER LOCK MULTI TOOL WITH V-CUTTER (57% off)
SOG FASTHAWK HATCHET (52% off)
BROWNING ZERO GRAVITY GORETEX RAIN JACKET (60% off)
SUREFIRE E2D DEFENDER FLASHLIGHT (58% off)
Today's First Deal: SOG POWER LOCK MULTI TOOL WITH V-CUTTER – Available in Silver and Black
Suggested Retail Price: $114.00
Camofire Price: $53.29 – 57% OFF
SILVER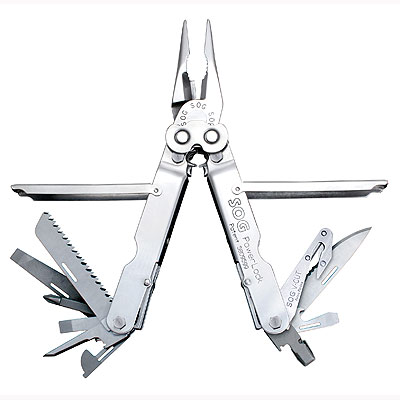 Description:
Using the proven PowerLock chassis, SOG is the only company to apply Compound Leverage™ technology to EOD(Explosive Ordnance Disposal)in a multi-tool. In English: this makes it a breeze to crimp blasting caps and demolition cord with less hand pressure. I cut through a quarter with ease. Another unique SOG feature is the positioning of the crimper device within the confines of the handle…not in the plier jaw, like all other designs. This serves to minimize collateral damage to the crimper and allows the operator to have full use of the uninterrupted plier surface. Additionally there is no weakening of the pliers that often causes breakage of the plier tips.
The crimper produces non-flaring, high pull out strength crimps that meet government fuse well specifications. On top of that it includes the V-Cutter which is used to cut seat belts, paracord, fishing line, electrical cable sheathing…you get the picture. Add to this features like a locking blade, bombproof construction, durability, a nylon sheath and you're going to be hard pressed to get a better multi tool anywhere.
Oh sure, you may find a cheaper tool but the saying rings true with multi-tools – you truly get what you pay for.
—
Got something to say about the SOG POWER LOCK MULTI TOOL WITH V-CUTTER? Tell the world by commenting below.