TODAY'S SOG SATURDAY RAPID FIRE LINE UP
Today we have 6 deals coming your way, all of which are from SOG. Some may go fast and will either sell our or will go until the timer reaches zero, after which the next hunting deal will arrive. Get ready to pull the trigger!
Some of the Camofire deals for today will include:

SOG MAGNADOT KNIFE AND SHARPENER KIT (73% off)
SOG DARK ENERGY 214A LED SUPER BRIGHT FLASHLIGHT (51% off)
SOG BLINK FOLDING POCKET KNIFE (59% off)
SOG FLASH II KNIFE (61% off)
SOG SEAL PUP ELITE BLACK TINI FIXED BLADE KNIFE (60% off)
SOG TEAM LEADER FIXED BLADE KNIFE WITH SHEATH (65% off)
Today's First Shooter – SOG MAGNADOT KNIFE AND SHARPENER KIT
Suggested Retail Price: $55.00
Camofire Price: $14.99 – 73% OFF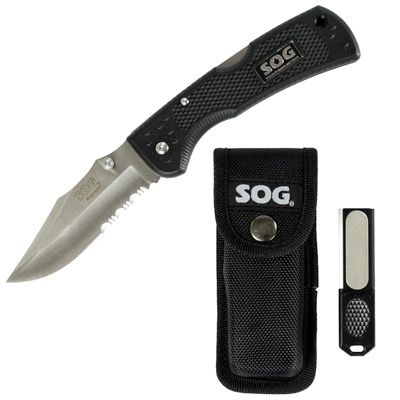 The SOG Magnadot Folding Knife is not a wimpy little folding knife that you will lose in your pack. When using this knife you know you have a fine tool in your hand. This smooth opening knife locks securely and when opened it is ready for use. The glass reinforced nylon handle is high strength, abrasion and impact resistant.
The Magnadot features a 3.63 inch razor blade that when opened is ready for business. It also comes with a sharpener kit and a nylon belt pouch that makes it handy for packing on your belt or on a backpack strap. The Magnadot is the perfect knife for heavy use that wont let you down.
—
Got something to say about the SOG MAGNADOT KNIFE AND SHARPENER KIT? Speak your mind by commenting below.