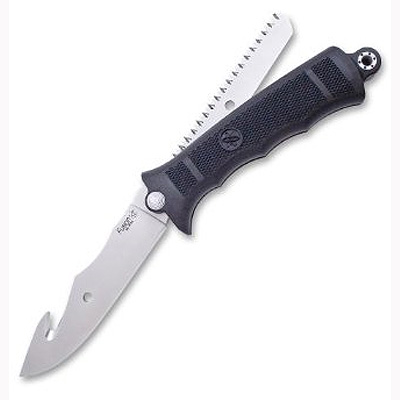 Product: SOG FUSION HUNTER REVOLVER KNIFE
Regular Retail Price: $40.00
Camofire Price: $19.89 – 51% OFF
Description:
The Fusion Hunter Revolver from SOG could very well be the definitive knife for the outdoorsman, hunter, archer, fisherman, and sportsman. For starters the gut hook on a nice blade caught my eye and had me thinking about skinning an animal or perhaps opening up that summer steelhead.
What really should catch your eye is a bone/wood saw that when combined with the blade allows you to dress game, cut tree stands, but bone, build shelters, and still have enough left to clear that pesky scrub oak out of your way.
A glass-reinforced Nylon handle hides the stainless steel liners which ensure strength and quality. And as always, SOG edges are razor sharp from top quality steel. Whether you're camping or crusading, why not pack twice the capability with the Hunter Revolver? It just might transform your idea of what a knife should be.
—
Got something to say about the SOG FUSION HUNTER REVOLVER KNIFE? Tell the world by commenting below.