Today's First Deal: SOG DOUBLE HEADED AXE
Regular Retail Price: $80.00
Camofire Price: $38.80 – 52% OFF Retail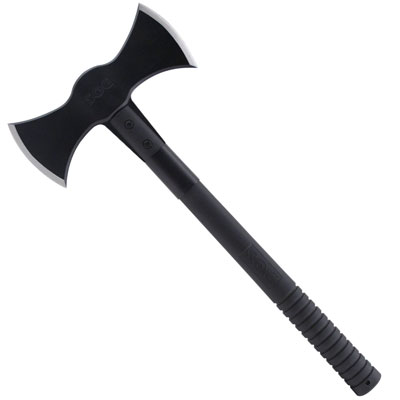 NOTE: This item will not ship to Canada. Customs prohibits this type of item.
Description:
The SOG Double Headed Axe is based on the construction and durability of the world renowned Tomahawk. There is now limits of what can be achieved with this heavier two edged head, whether shaping and splitting wood or harvesting timber the SOG Double Headed Axe has it covered. The axe can appropriately be used in military/LE operations for breaching, extraction, etc.
With a 14" handle made of lightweight yet strong fiberglass nylon polymer using one or two hands is optional. The 420 stainless steel head with a Hardcased black coating is mounted atop the handle with heavy-duty bolts and a steel ferrule to insure the strongest integrity. The ribbed portion extends 5" from the base of the handle for a slip-resistant grip. Accompanied by a nylon sheath with heavy-duty rivets and snaps allows for a safe transport. For an all around camp axe or a work horse axe the SOG Double Headed Axe is at the top of the class.
—
Got something to say about the SOG DOUBLE HEADED AXE? Tell the world by commenting below.