Today's First Deal: SOG DELUXE POCKET POWER PLIER MULTITOOL
Regular Retail Price: $77.75
Camofire Price: $34.95 – 55% OFF Retail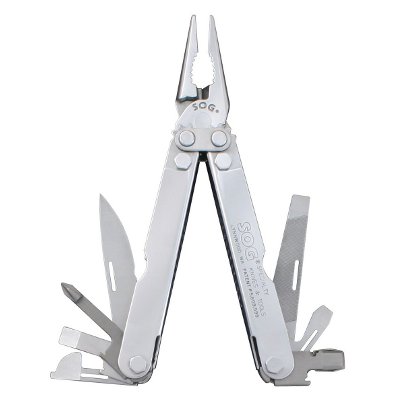 Description:
In the field anything can happen to equipment, having a tool capable of achieving many tasks can be a lifesaver. SOG's Deluxe Pocket PowerPlier is packed with essential tools that include pliers/grippers, wire cutters, partially serrated blade, small/large screwdrivers, Phillips screwdriver, ¼ – inch socket drive, medium screwdriver, three sided file, can opener, bottle opener, awl, rulers, lanyard, and a heavy duty Nylon pouch.
SOG's exclusive interlocking gears are a driving force behind the PowerPlier Series tool. With a flip of the wrist this multi-tool opens easily with one hand. They also generate Compound Leverage action with doubles the pliers force with one-time the hand pressure. With SOG's renowned reputation there is no going wrong with the Deluxe Pocket PowerPlier.
—
Got something to say about the SOG DELUXE POCKET POWER PLIER MULTITOOL? Tell the world by commenting below.