CAMOFIRE RELOADED!
We've got number of hunting deals coming your way today that will be at 40%-70% off, featuring hunting gear from SOG, GERBER, CORE4ELEMENT, TRIBEONE, EASTOn, SPYPOINT and others. Be sure to use the arrows to check out all of the Reloaded deals available. Get ready to pull the trigger!
Some of the Camofire Reloaded deals for today will include(not in this particular order):

SOG DARK ENERGY 214A LED SUPER BRIGHT FLASHLIGHT
AMERISTEP POSSE GROUND BLIND
HUNTERS SPECIALTIES TEK 4 ORANGE BEANIE
TRIBEONE OUTDOORS GEAR NET SET
BADLANDS ADDER DUFFEL BAG
EASTON FLATLINE WAIST PACK
EASTON ACC PRO HUNTER DOZEN ARROWS
BEMAN ICS CAMO HUNTER DOZEN ARROWS
EASTON PICKUP LIGHTWEIGHT BACKPACK
BULLDOG HYBRID MAGNUM RIFLE CASE
FINAL APPROACH NECK GAITER
CRKT M16-12 ZYTEL TANTO BLADE LAW ENFORCEMENT KNIFE
NATURAL GEAR SNOW CAMO BALACLAVAE
CORE4ELEMENT TEK BALL CAP
SPYPOINT TINY-D 8.0 MP TRAIL CAMERA
SOG BLINK BLACK TiNi FOLDING POCKET KNIFE
CRKT IKOMA SMAPA 5335K FOLDING KNIFE
GERBER BEAR GRYLLS FOLDING SURVIVAL KNIFE
…and many more deals!
Today's First Shooter – SOG DARK ENERGY 214A LED SUPER BRIGHT FLASHLIGHT
Suggested Retail Price: $105.00
Camofire Price: $45.90 – 56% OFF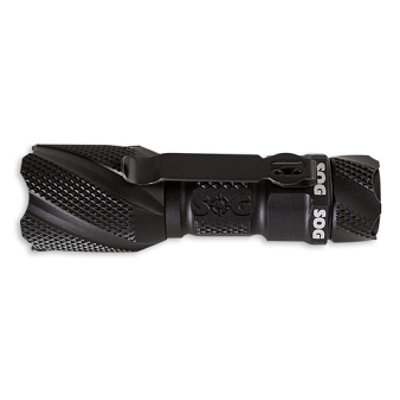 DarkEnergy, the SOG line of flashlights, pierces the night. They look different and they behave differently. The goal was simple. SOG wanted to have the brightest flashlights of their size. You will be surprised at the power when you switch on the DarkEnergy lights, with 214 lumens in the palm of your hand!
Light up the tree tops to appreciate the penetration and range. SOG also wanted to have the best switch in the business, so they developed a full on full off switch (each and every time) that also half-taps to 40% output and then tactical strobe. The 6061 T6 aluminum housings are aggressively checkered, and are coated in a Class III anodizing for maximum durability.
Count on SOG when light is not enough, but when blindingly bright is.
—
Got something to say about the SOG DARK ENERGY 214A LED SUPER BRIGHT FLASHLIGHT? Speak your mind by commenting below.