THE LINE UP:
Today we've got 3-4 deals in the line up as we Rapid Fire through them. Watch the timer on the Camofire homepage for each item to change. If one sells out the next shooter will show up.
The deals for today are:
SOG BATTLE AXE (57% off)
SPYPOINT TINY TRAIL CAMERA (47% off)
NIKON PROSTAFF 20-60×82 SPOTTING SCOPE (55% off)
VANGUARD VENTURE BINOCULARS (47% off)
Today's First Shooter: SOG BATTLE AXE
Suggested Retail Price: $64.25
Camofire Price: $27.49 – 57% OFF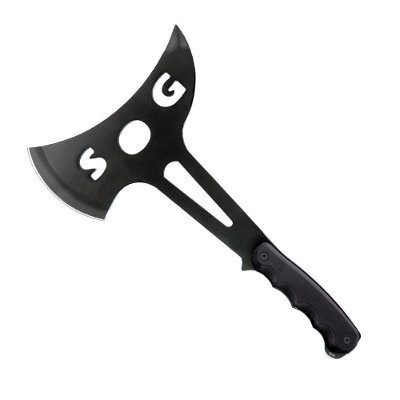 Description:
The SOG Battle Axe evokes its origins from medieval times, which some might consider to be the present. Whether used as a target axe, SWAT tool, universal back up, or hung above the fireplace; it is very effective. It is a modern axe that is perfect for throwing, military, camping, or just as a universal axe.
The pike in the back is upswept for better target penetration when sitting around camp having an axe throwing contest. Size and heft are balanced for optimum swing control. The handle is sculpted from heavy duty black Pakka wood and the entire solid blade is protected with SOG's hardcased black coating. Protected with the nylon sheath, it's perfect to pack up and take to your next hunting camp.
—
Got something to say about the SOG BATTLE AXE? Tell the world by commenting below.