CAMOFIRE RELOADED
We've got number of hunting deals coming your way today that will be at 40%-70% off, featuring hunting gear from SOG, CRKT, EASTOn, ROCKY, DO ALL OUTDOORS to name a few. Be sure to use the arrows to check out all of the Reloaded deals available. Get ready to pull the trigger!
Some of the Camofire Reloaded deals for today will include(not in this particular order):

SOG AURA HUNTING KNIFE
BROWNING 468 MOUNTAIN HUNTER SEMI-SKINNER
CRKT M21 CARSON FOLDING POCKET KNIFE
SOG FIELD PUP II KNIFE WITH LEATHER SHEATH
CORE4ELEMENT ELEMENT JACKET
DO ALL OUTDOORS HELI SPINNER .22 CALIBER TARGET
PRINCETON TEC FUEL 3 LED HEADLAMP
ROCKY L2 ATHLETIC MOBILITY MIDWEIGHT PRIMALOFT 800 GRAM INSULATED BOOT
EASTON AXIS N-FUSED FULL METAL JACKET ARROW SHAFTS
SHIELD SAFETY HUNTERS ADDITION FIRST AID PACK
BADLANDS MAG GEAR BAG
LANSKY STANDARD SHARPENING TOOL
ROCKY SIQ ATOMIC BOW HUNTING GLOVES
BADLANDS DIABLO DAYPACK
…and many more deals!
Today's First Shooter – SOG AURA HUNTING KNIFE
Suggested Retail Price: $55.00
Camofire Price: $25.00 – 55% OFF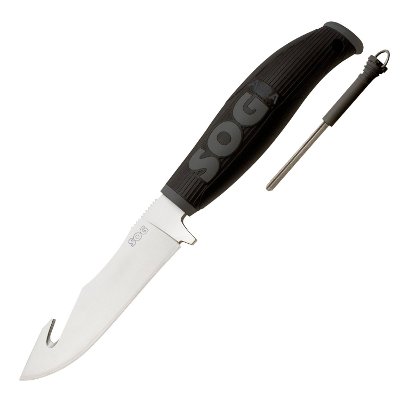 You know that walking up to your kill means the real work is about to begin, but you'll be one happy hunter knowing the Aura Hunting Knife with its 5″ straight edge gut-hook fixed blade is in your pack, ready for action.
With a wicked sharp stainless steel blade, the designers at SOG build the Aura from taking the traditional concept of the hunting knife through an evolution, giving it a feel and function you can rely upon. At just over 5 ounces the light weight feel and ergonomic non-slip handle makes for a comfortable grip in nearly any hand. The blade design was adapted to provide the element of safety as well as allowing for greater control.
In case the extremely sharp and durable edge requires a touch up in the field you can simply unscrew the carbide sharpener discretely hidden in the back of the handle. Don't forget to pack the Aura on your next hunting trip and when you harvest you'll make quick work of the task at hand.
—
Got something to say about the SOG AURA HUNTING KNIFE? Speak your mind by commenting below.