SMITHS PRECISION KNIFE SHARPENING COMBO KIT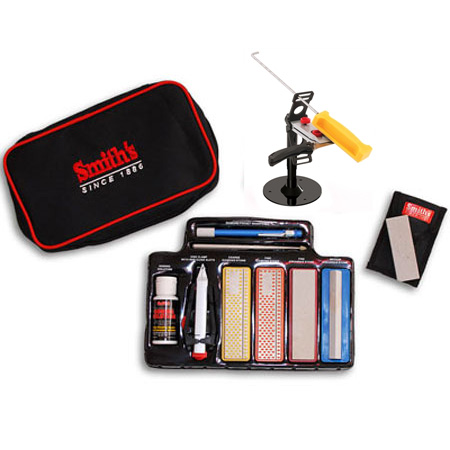 First Item for Today: SMITHS PRECISION KNIFE SHARPENING COMBO KIT
Regular Retail Price: $81.99
Camofire Price: $37.19 – 55% OFF
Description:
Smith's Diamond Field Precision Sharpening System offers an easy way to sharpen all types of knives, including serrated or combo blade knives. The fabric storage pouch makes this kit portable and easy to store and the 1-inch wide stones makes sharpening safe, fast, and easy.
The kit comes with a Coarse Diamond Stone, Fine Diamond Stone, Fine Arkansas Stone, Medium Triangular shaped Arkansas Stone for serrated edges only. We're including a 3″ Arkansas stone with cordura sheath for taking into the mountains in case you need to touch up the edge of your hunting knife at any time. A Diamond Retractable Sharpener is ideal for the serrations as its tapered for any size of serration.
Lastly the Premium Honing Solution is a cleaning agent to keep your sharpening stones in top shape. A dull knife is your worst enemy so keep them sharp and ready for any situation with Smith's finest sharpening kit around.
—
Got something to say about the SMITHS PRECISION KNIFE SHARPENING COMBO KIT? Tell the world by commenting below.