Today's First Product: SITKA CELSIUS VEST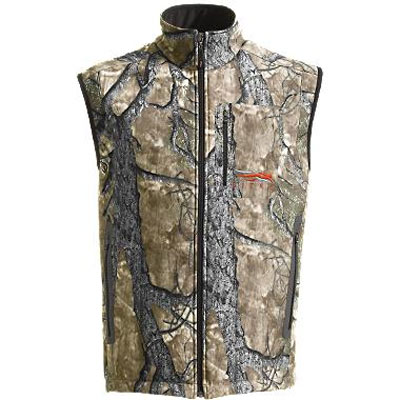 Regular Retail Price: $149.00
Camofire Price: $49.90 – 67% OFF
Description:
If you're a small or a medium, this deal is a sweet one. We've got a few of these sizes left and needed to make room in the warehouse so we're blowing these vests out.
Keeping the core of your body warm does not always mean tossing on yet another jacket. Get smart, hunt smart and get yourself a Sitka Celsius Vest. This vest is made with body mapping insulation which means that certain areas have warmer more dense fleece insulation while other spots are a bit thinner where you don't need it. After all, extra bulk is not what you want when you pull back on your new Hoyt Alpha Max and key it up at a 350 class bull 22 yards upwind.
Speaking of wind, the vest has tightly woven fabric as the outer layer to be Wind resistant and is also is treated to be water resistant. Two hand warmer pockets are set higher than normal for access even when wearing a pack. As well is a chest pocket along with a high collar to add to the features. The side panels are made of a more flexible fabric to give you a good fit despite your movements. Sitka thought of it all with the Celsius Vest.
—
Got something to say about the SITKA CELSIUS VEST? Tell the world by commenting below.