RAPID FIRE:
We've got 3-4 deals in the line up today. Each item will end when the timer hits zero OR if it sells out before the time is done it'll automatically move on to the next deal.
SHIELD SAFETY HUNTERS ADDITION FIRST AID PACK (55% off)
TEAM REALTREE BIG GAME BIBS (57% off)
NATURAL GEAR BOMBER FLEECE JACKET (57% off)
First Deal for Today: SHIELD SAFETY HUNTERS ADDITION FIRST AID PACK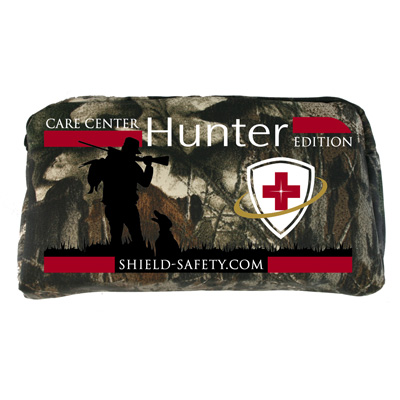 Regular Retail Price: $109.99
Camofire Price: $49.99 – 55% OFF
Description:
The best hunter first aid kits are those designed with the hunter in mind. The Shield Safety Hunter kit includes 23 different items for the most often hunting related minor and major injuries along with the world's best product (Cool Jel) for eliminating all types of burns ie: sunburns, heat burns, chemical burns, etc.
Because you never know what's going to happen while you're dressing your game, they've included Woundseal that is designed to replace the need for stitches and is clinically proven to heal more effectively than stitches leaving little to no scaring. It's also the only product that can be used to stop and clot bleeding for hemophiliacs or individuals who may be taking blood thinners. Other features include a tweezer with magnifier, Wrap It Ice which is a world class wrap designed to replace the need for ice for strains and sprains, Woundflush which is a sterile solution for flushing open wounds and scrapes, as well as a number of medications for headaches, back pain, colds and flu and allergies.
This pack is sized right to fit in most any backpack, ATV bag, or truck and can be easily reloaded with extra items as you use it year in year out. If you or especially your buddy don't have a first aid kit, it's time to head out on the hunt this fall with the peace of mind that comes along with a rock solid kit in case the unfortunate should happen.
—
Got something to say about the SHIELD SAFETY HUNTERS ADDITION FIRST AID PACK? Tell the world by commenting below.