First Item for Today: SHIELD SAFETY CARE CENTER PLUS MEDICAL KIT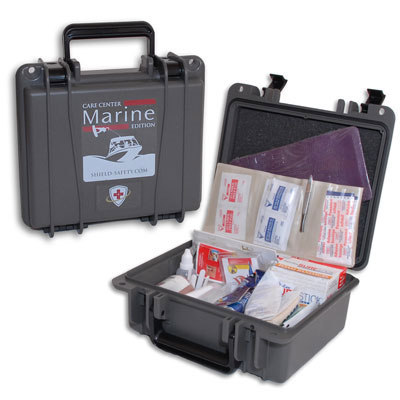 Regular Retail Price: $179.99
Camofire Price: $89.99 – 50% OFF
Description:
When you hunt hard or spend time in the outdoors, inevitably injuries can happen. Being prepared with the right emergency kit can make all the difference so we teamed up with Shield Safety to take their Marine Edition kit and add hunting specific items like clotting agent, finger splints and more. Included in the kit are over 40 different items with a total of 158 individual pieces of medical help.
Starting with the case, it's a Sea Horse waterproof, floatable case that would double really well as an ammo or pistol case were it not for all the medical items inside. Speaking of, there are 6 different OTC's or medications for headaches, backaches, sore muscles, colds, allergies and Medi-Lyte for dehydration to replace your electrolytes. Also included are 5 different types of elastic bandages (knuckle, small and large fingertip, large patch, small strips) and foam strips which are water proof.
You also receive alcohol and antiseptic wipes, antibiotic ointment, hydrocortisone cream, adhesive tape remover pads, gauze pads, non-stick pads, hand sanitizer, tweezers and unique EMT shears that will cut through clothing and wire. Muscle jel for muscle aches and pains. Recover Ice which is much more effective process for sprains and strains than typical ice. It's an ace bandage soaked in ethanol, menthol and arnica which is a natural homeopathic product that is an anti-inflammatory to help with the swelling and bruising of an sprain or strain. It can be worn while continuing to enjoy the outdoors and will not take away from your experience.
It also includes eye wash, tape, a bloodstopper compress, 3" gauze roll, 3" x 5 yds. cohesive bandage, ice pack, triangular bandage, nitrile gloves and 30 ml wound rinse. Two splints are included: a finger splint and a 9" STAT splint that can be formed around an extremity and cut to size. A 2 oz. Cool Jel bottle is added to eliminate burns found in the outdoors: heat (fire), sunburns, chemical, friction, etc. Wound Seal is an incredible product designed to seal up wounds through clotting the blood. It is more effective at healing wounds that would usually require up to 10-12 stitches and prevents scaring unlike stitches. It also has an antiseptic in the powder, so there is no need to clean the wound before applying. Just apply the powder with pressure for about 15 seconds.
Lastly the kit includes the most effective product focused treatment guide to make sure proper application is used when taking care of an injury, rounding out all the features of this kit. Keep this kit in your truck, RV, camper, ATV trailer, home, business, boat or anywhere that the unfortunate could happen and preparedness will be on your side.
—
Got something to say about the SHIELD SAFETY CARE CENTER PLUS MEDICAL KIT? Tell the world by commenting below.