CAMOFIRE RELOADED
We've got number of hunting deals coming your way today that will be at 40%-70% off, featuring hunting gear from S4GEAR, LIBERTY BOTTLE WORKS, BADLANDS, SOG, NATURAL GEAR, LORPEN to name a few. Be sure to use the arrows to check out all of the Reloaded deals available. Get ready to pull the trigger!
Some of the Camofire Reloaded deals for today will include(not in this particular order):

S4 SIDEWINDER EVO RETRACTABLE TETHER AND LOCKDOWN BINO HARNESS COMBO SET
LIBERTY BOTTLE WORKS 24 OZ WILDLIFE SERIES ALUMINUM WATER BOTTLE
CORE4ELEMENT SWITCHBACK PANT
BADLANDS VIPER DUFFEL BAG
AMERISTEP AVENGER ALUMINUM HANG-ON TREESTAND
CORE4ELEMENT 2012 TORRENT RAIN JACKET
WILDVIEW X8IR BLACK INFRARED 8MP DIGITAL SCOUTING CAMERA
NATURAL GEAR VENTED FLY FISHING LONG SLEEVE SHIRT
SOG BLINK BLACK TiNi FOLDING POCKET KNIFE
CORE4ELEMENT TORRENT RAIN PANT
WHITEWATER 3D REALLEAF BALL CAP
BROWNING KODIAK CAMP CHAIR
SHIELD SAFETY MARINE PLUS MEDICAL KIT
LORPEN H2W MERINO WOOL MID-CALF HUNTING SOCKS 2-PACK
…and many more deals!
Today's First Shooter – S4 SIDEWINDER EVO RETRACTABLE TETHER AND LOCKDOWN BINO HARNESS COMBO SET
Suggested Retail Price: $84.98
Camofire Price: $46.99 – 45% OFF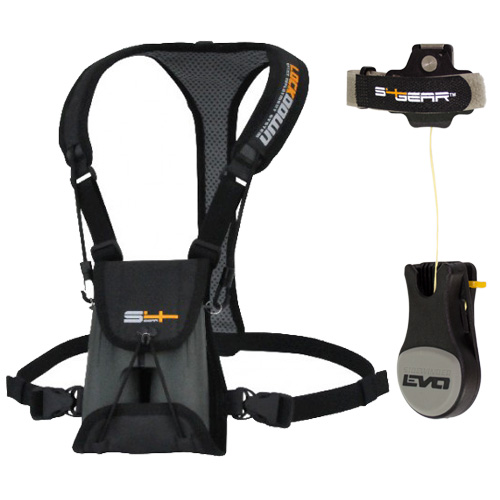 The S4Gear LockDown Binocular Harness is one of the best ways to pack your binoculars in the field. This harness system will keep your binoculars connected and protected. It is designed to distribute the weight of binoculars down your back, eliminating any shoulder or neck tension on long days on the mountain. The high-performance air weave fabric is used to keep you cool during hot Summer hunts or when wearing multiple layers in colder weather.
The Extra Protection Shield is 1/2″ wider than that of the classic LockDown for maximum lens protection for larger binoculars. The harness itself is lightweight and hardly noticeable while on your back and chest. Anti-bounce technology keeps your binocular tight to your body when you move keeping noise to a minimum. Tension-free glassing lets you draw your binocular to your face in a single motion. Enjoy glassing more than ever before with the S4Gear LockDown Binocular Harness.
Now, package the S4Gear LockDown with the S4's new Sidewinder Evo and you've got everything you need to keep your optics, rangefinder, gps, or radio secure and ready for deployment when you need to get a quick range on your game, or glass up that monster bull! The Tether Pad locks the electronics securely in place with the proven double-sided 3M adhesive interface and adjustable Velcro strap. With a 36″ kevlar cable, you'll enjoy a great range of motion. Be locked and loaded with this combo to secure your investments and have easy access to assess the shot, and judge your trophy.
—
Got something to say about the S4 SIDEWINDER EVO RETRACTABLE TETHER AND LOCKDOWN BINO HARNESS COMBO SET? Speak your mind by commenting below.