CAMOFIRE RELOADED
We've got number of hunting deals coming your way today that will be at 40%-70% off, featuring hunting gear from RINEHART, EASTON OUTFITTERS, BADLANDS, EASTON, VOLCANO, GEORGIA to name a few. Be sure to use the arrows to check out all of the Reloaded deals available. Get ready to pull the trigger!
Some of the Camofire Reloaded deals for today will include(not in this particular order):

RINEHART RHINO BLOCK ARCHERY TARGET
RINEHART TOM TURKEY 3D TARGET
RINEHART 18-1 ARCHERY TARGET
RINEHART RHINO BRUTE TARGET
FINAL APPROACH ELIMINATOR CARGO BLIND
EASTON FULLBORE PACK
BADLANDS ULTRA DAY BACKPACK
EASTON ACC PRO HUNTER DOZEN ARROWS
RINEHART RHINO BLOCK XL TARGET
KERSHAW SCALLION KNIFE
BADLANDS NANO FANNY PACK
VOLCANO LITE BACKPACKING STOVE AND POT COOK SET
BROWNING HELLS CANYON FULL THROTTLE JACKET
SOG TRIDENT MINI ASSISTED OPENING KNIFE
EASTON GAME TRAIL HYDRATION DAY BACKPACK
GEORGIA BOOT CROSSRIDGE HIKER 6 INCH MOUNTAIN BOOT
…and many more deals!
Today's First Shooter – RINEHART RHINO BLOCK ARCHERY TARGET
Suggested Retail Price: $169.99
Camofire Price: $108.00 – 36% OFF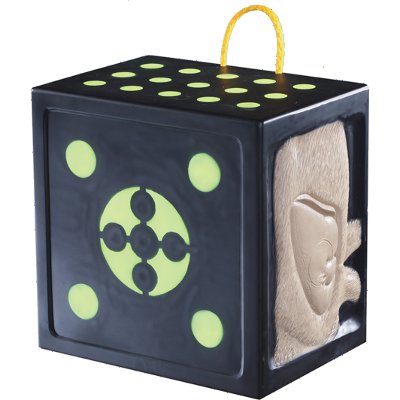 Sharpen your archery skills with the Rinhart Rhino Block Archery Target. Constructed of Solid FX Foam this target is durable enough to handle the abuse hundreds of shots. With six sides and a self-healing core, it will outlast your longest, hardest practice sessions.
There are times after work when the light is fading and we still want to shoot our bow so the Rhino Block has highly visible spots for low light shooting. It's rated for crossbows and compound bows and has easy arrow removal for field points or broadheads. Made in the USA the Rinehart Rhino Block Archery Target will replace any old target you have laying around and will stop arrows shot after shot.
—
Got something to say about the RINEHART RHINO BLOCK ARCHERY TARGET? Speak your mind by commenting below.