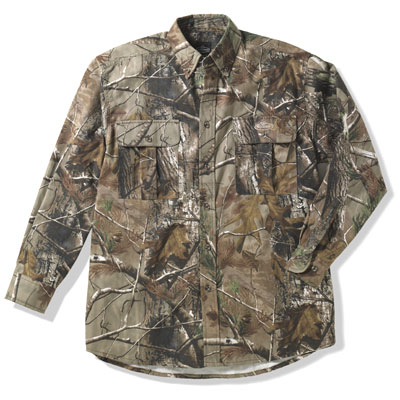 Product: Realtree Two Pocket w/Flap Long Sleeve Shirt
Regular Retail Price: $39.99
Camofire Price: $18.75 – 53% off
Description: The Two Pocket w/Flap Long Sleeve Shirt features Realtree camo patterns and is built with solid heavy weight CVC brushed twill. Although this may be the nicest looking camo shirt you'll wear hunting, don't think it won't hold up. The cotton-poly blended material will last through any hunt keeping you warm and will also dry out if it does manage to get wet. An extended length flap in the back will keep the cool breeze out (and keep you from showing the plummer) despite any amount of movement. This shirt runs true to size.
There are no regrets when hunting with a shirt as reliable as the Realtree Two Pocket w/Flap Long Sleeve.
—
For a first product we picked this shirt cause quite frankly it's a no brainer to own one. Great as a layer under a coat when it's cold, does great when its warm out like last week's deer hunt opener.
Got something to say about this shirt? Comment below.