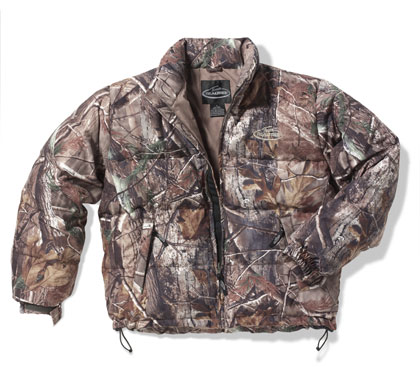 Product: REALTREE DOWN CAMO HUNTING JACKET
Regular Retail Price: $129.99
Camofire Price: $54.99 – 58% OFF
Description:
It's a cold one out there and if you're hunting or doing anything in the mountains between now and April you'll be glad you have a down jacket. Nothing keeps you warm like down, nothing!
Insulated with high quality 90/10 grey goose and built with baffled construction to keep the down separated throughout the jacket, the Realtree Down Camo Hunting Jacket is hard to beat on quality and warmth, period.
The soft microfiber material won't snag in the woods and won't make noise with movement as you draw back your bow on that 200 score whitetail in the dead of winter.
The sizing runs true to size so choose based on your normal fit.
—
Daytime high in our neck of the woods is going to be in the teens and perhaps the 20's tomorrow. This jacket would be call! Makes winter feel a whole lot more like summer, that's for sure.
Got something to say about this jacket? Comment below.