Rapid Fire Day
Watch for items like:
CRKT Elishewitz Pharoah Folding Knife
Sitka Celsius Vest
Hunters Specialties Treestand Shooting Stick
Princeton Tec Genesis Tactical Flashlight
Lorpen Hunting Socks – 2 Pack
Featured Item for Today: CRKT ELISHEWITZ PHAROAH FOLDING KNIFE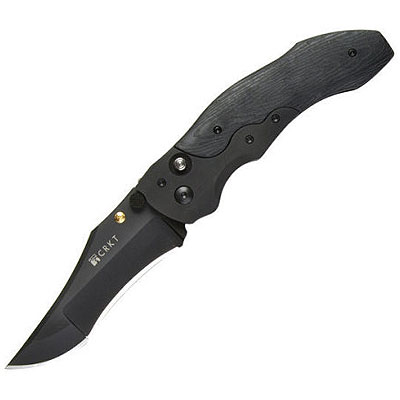 Regular Retail Price: $119.99
Camofire Price: $44.69 – 63% OFF
Description:
The Elishewitz CRKT Pharaoh™ is a unique folding knife design that incorporates many of Allen Elishewitz's striking and influential knife themes. First there is the unique blade grind, reminiscent of the traditional "long clip blade" of a century ago.
The tip is designed for penetration, with a swedged top edge. But the center of the blade is re-curved, with a high hollow grind, making it ideal for feeding material to the cutting edge— wood, cord, vegetation. The black-on-black features a titanium nitride blade coating that is non-reflective along with the plus black liners, bolsters, fasteners and clip for a tactical look. The frame is about the strongest around with dual stainless steel liners, black stainless steel bolsters, textured injection-molded Zytel® scales, and a solid Zytel back spacer at the spine. The Pharaoh has a button lock.
In addition, CRKT added their patented* AutoLAWKS™ automatic safety, which engages when the blade is opened and locked. This combination makes just about the strongest and most secure lockup possible in a folding pocket knife.
—
Got something to say about the CRKT ELISHEWITZ PHAROAH FOLDING KNIFE? Tell the world by commenting below.