ANNOUNCEMENT: This is the first deal of many that will be coming up today, December 17. When this deal sells out, the next will come up, then the next, and the next….all day long.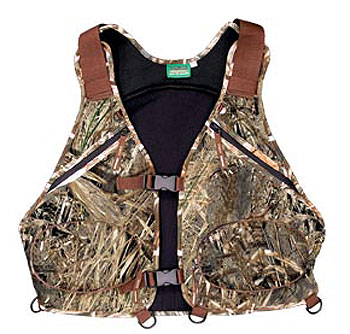 Product: PRIMOS WATERFOWLER'S VEST
Regular Retail Price: $79.99
Camofire Price: $31.99 – 60% OFF
Description:
Gone are the days of shells in your pants pocket, gloves stuffed in your jacket pocket, energy bar in yet another pocket of your fleece layer. Get with the program and grab the Primos Waterfowler's Vest™.
It carries your shells, gloves, mask, and other accessories while keeping you warm and agile. Made of neoprene, the Waterfowler's Vest™ will not absorb water when wading in deep water or when the rain and snow starts coming down.
The straps on the Waterfowler's Vest™ are adjustable so that you can get the exact fit that is right for you. One size fits most.
—
I need this vest. Last time I was duck hunting I had extra shells in my pack, my hoodie pocket and my pants pocket. What a junk show it was. Time to get organized with the Waterfowler's Vest.
Got something to say about this vest? Comment below.