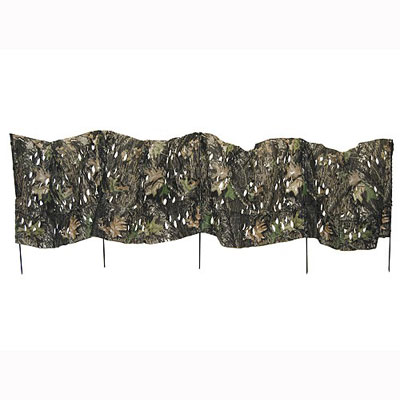 Example of how it looks when set up (the pattern in this image is Break Up, not AP Green which is what we're offering)

Product: PRIMOS STAKE OUT GROUND BLIND
Regular Retail Price: $24.95
Camofire Price: $11.75 – 52% OFF
Description:
How'd Turkey season go? Or perhaps it's just starting? If you've done your homework then you've got a couple of spots picked out.
The PRIMOS Stake Out™ Ground Blind is going to come in real handy this season and for years to come. Built from the exclusive Bricaid™ material which is water, UV and mildew resistant, it comes as an extra large 12 feet wide by 27 inch tall ground blind. The Bricaid™ material is also die-cut to provide a 3-D effect.
Included are 5 solid fiberglass poles with sharpened ends (no, not for spearing a big Tom) and push caps that make it easy to push into the ground. They are shock-corded much like tent poles to provide compact carry and quick set-up. Add to that a carrying case with a shoulder strap and you are set. Although ideal for turkey it will serve you well for deer, elk and other hunting this fall.
We're including a copy of Truth 17 Spring Turkey Hunting DVD for the first 8 orders so get on it and you'll have turkey fever all year round thanks to the boys at Primos.
—
Got something to say about the PRIMOS STAKE OUT GROUND BLIND? Tell the world by commenting below.