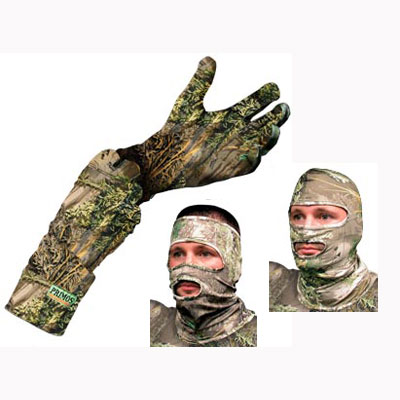 Product: PRIMOS STRETCH FIT GLOVE-DUAL FACE MASK COMBO
Regular Retail Price: $32.97
Camofire Price: $12.99 – 61% OFF
Description:
All three of these items from PRIMOS will serve you well in the fall archery season and into next year's Turkey hunt. The light-weight stretch-fit fabric on both the 3/4 mask, full face mask as well as the gloves are cool and made with a breathable fabric so you won't overheat. The fabric will draw moisture away from the skin and dry fast like any performance material should.
The GLOVES have with a 4″ extended cuff and will fit most any hands. They are great for spring turkey season or early bow season where dexterity is key as well as concealment.
The stretch-fit MASKS in both full face and 3/4 (to be worn with a ball cap) are great for warm-weather hunts. They fit like a second layer of skin and will not get in the way of drawing or anchoring your bow. For masks that totally conceal your face and neck while keeping you comfortable during warm early-season hunts look no further. Plus at a mere ounces they weight nothing and will fit easily in a pocket.
—
Got something to say about the PRIMOS STRETCH FIT GLOVE FACE MASK COMBO? Tell the world by commenting below.