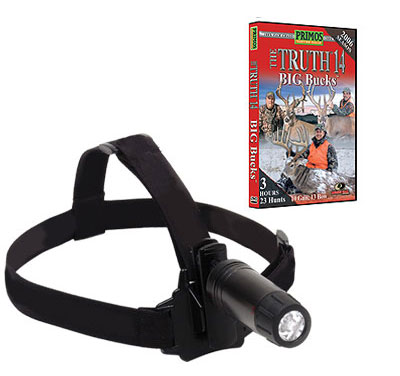 Product: PRIMOS HEADLAMP MINI LITE PLUS VIDEO COMBO
Regular Retail Price: $30.98
Camofire Price: $10.12 – 67% OFF
Description:
The trouble with wearing a headlamp is that so many times you've got a ball cap on and the brim of the cap blocks the beam of the light from where often need it to shine – near your feet. The Primos Headlamp mini-lite is a clip on light that will clip anywhere, including on the headlamp band.
Basically you can wear this light with 3 LEDs as a headlamp or on the brim of you hat – you choose. If you wear it as a headlamp, it's long enough to provide additional light over the brim of your hat. Built with a tough ABS housing this light is made to withstand years of use.
We've combined the light with the TRUTH 14, BIG BUCKS DVD to ensure your nights are full of action whether you're out in the field or in your living room. The DVD which includes 3 hours and 23 hunts.
At this price it's worth it to pick up a few of these combo sets to give away to your hunting buddies so they'll quit borrowing your light and your DVD's.
—
Got something to say about this light and video combo? Comment below.