Primos Day continues with another item.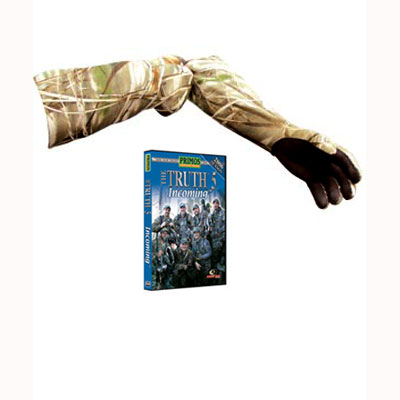 Product: PRIMOS DECOY GLOVES AND TRUTH 5 INCOMING VIDEO COMBO
Regular Retail Price: $39.48
Camofire Price: $15.95 – 60% OFF
Description:
Quit messing around with those yellow house cleaning gloves or shopping bags over your wool mittens – step up the to real deal with the Primos Decoy Gloves.
Wet hands on a cold fall duck hunting day or worse on an wintry late November hunt can mean the beginning of the end. Nothing fun about cold wet hands from sorting out your decoys after your throw put the deeks in the wrong spot.
These neoprene gloves help repel the cold elements and keep your hand warm and dry.
To sweeten the deal we're combining these gloves with The Truth 5 Incoming that highlights hunting in Texas, Mississippi, Montana and Canada. The TRUTH® 5 is all about the planning, the preparation, the hunting, and the fun.
Score the combo and plan on warm dry hands to take 'm when you need to pull the trigger.
—
Got something to say about the PRIMOS DECOY GLOVE? Tell the world by commenting below.