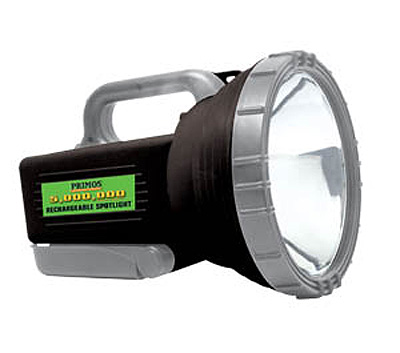 Product: PRIMOS 5,000,000 CANDLE POWER RECHARGABLE SPOTLIGHT
Regular Retail Price: $39.49
Camofire Price: $18.74 – 53% OFF
Description:
Looking to light up the neighborhood or better yet the mountainside? Put the blinding powder of a 5 Million Candle Powder light from Primos in your hand and bring on the light.
Recharge this light at home or right from your truck with the 12-volt cord that's included. Built strong to last, the durable housing is weather resistant for most any outdoor use. Geeze, it better be since most of the time it's going to be in the hills.
The handle is ergonomic for comfortable carrying or if you're doing some pig hunting at night, set this baby up on the hands free stand and wait for the pigs to come in before lighting up the night.
Lastly, it comes with a nylon shoulder strap for carrying ease.
—
Got something to say about this light? Tell the world by commenting below.