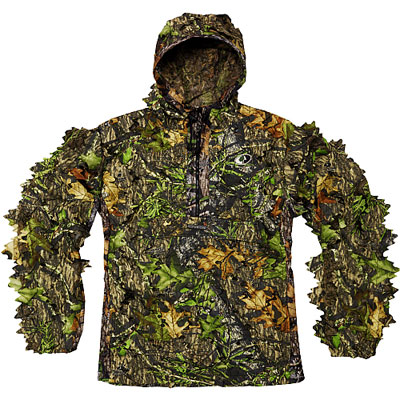 Product: MOSSY OAK SILENT LEAFY DIFFUSION PULLOVER AND OR PANT
Regular Retail Price: $89.95
Camofire Price: $39.25 – 56% OFF
Description:
Are you tired of sweating bullets and being seen in the woods in the early spring. The Mossy Oak Diffusion pullover and pants will keep out of sight and one with the woods. If you need to hide from your wife because shes mad at you for "pulling the trigger" you will have something to hide in.
The mesh/Silent Leaf™ Intrigue® polyester fabric provides cool, three-dimensional concealment. And they're designed with the sweat-absorbing, quick-drying VaporTec™ moisture management system to expel perspiration.
And they are lightweight and packable into a zippered kangaroo pouch in the pullover. Two hand warmer pockets. Be part of the woods like never before.
—
Last night I got a call from a buddy who had shot a 5 point elk with his bow just as the sun went down. I didn't get home until nearly 4 am after packing the elk 4 miles back to the car.
He said his camo was a huge factor to getting within 12 yards of the elk. This pant or jacket could help you do the same if you're hunting in the forest. Do you want to blend in or stick out like a sore thumb?
Got something to say about this jacket or the pants? Comment below.