First Hunting Deal Today: MONTANA DECOY COW ELK II RUMP DECOY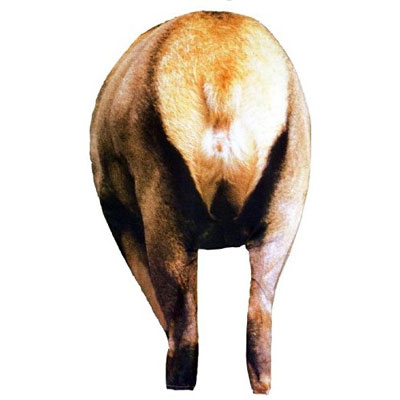 Regular Retail Price: $109.99
Camofire Price: $59.95 – 45% OFF Retail
Extra Item: The extra item today is the matching whitetail buck decoy.
Description:
The Montana Decoy Cow Elk II or Rump Decoy as it's often known is a very lightweight decoy that is perfect if you're hunting from a pack, a truck or an ATV. The realistic image may even fool you if you see it and forget you set it up – it happened to me a few times last season. Packed up it'll fit in most any pack at 10″x10″x2″ and with the two poles it adds up to just 2 pounds. If the elk are coming in quick you'll have the Elk Rump Decoy open and in place in less than 30 seconds.
As an option if you are hunting with a buddy you can ditch the poles to save weight and your buddy can call and hold the decoy, hiding behind it well. Or wedge it in the front of a tall bush – we've tried both techniques. Montana Decoy's have taken down big elk for years. Get your Rump and get a big BULL!
—
Got something to say about the MONTANA DECOY COW ELK II RUMP DECOY ? Tell the world by commenting below.