LORPEN TREKKING LIGHT HIKER MERINO WOOL SOCK
Conifer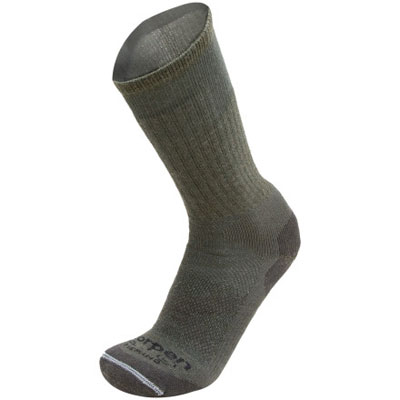 Also available in Ocean, Granite and Earth colors
First Item for Today: LORPEN TREKKING LIGHT HIKER MERINO WOOL SOCK
Regular Retail Price: $15.99
Camofire Price: $6.99 – 57% OFF
Description:
Lorpen is known for great socks, but when it comes to merino hiking and trekking socks that work exceptional for hunting, this particular sock is one of the best Merino Wool Hiking socks on the market! With multiple density construction and the right amount of stretch and tension in the fabric yards, Lorpen is able to build a sock that fits to any foot with comfort and precision. This gives you an accurate fit and long lasting comfort as you scout all spring and summer and hike for miles and miles.
You'll notice how each part of your foot is well fit. An optimal amount of padding on the sole delivers ideal levels of cushion where it's needed while a very open and finer knit over the top of the foot maximizes fit and moisture release without bunching up. Take your feet to the spa and slip into a Lorpen Merino sock.
—
Got something to say about the LORPEN TREKKING LIGHT HIKER MERINO WOOL SOCK? Tell the world by commenting below.