CAMOFIRE RELOADED
We've got number of KNIFE DEALS coming your way today that will be at 40%-70% off, featuring deals from SOG, KERSHAW, VICTORINOX, and CRKT to name just a few. Be sure to use the arrows to check out all of the Reloaded deals available. Get ready to pull the trigger!
Some of the Camofire Reloaded deals for today will include(not in this particular order):

SOG FIELD PUP II KNIFE WITH LEATHER SHEATH
VICTORINOX SWISSTOOL SPIRIT RT
CRKT KEN ONION SHENANIGAN Z FOLDING POCKET KNIFE
KERSHAW BLACK VOLT II FOLDING KNIFE
SOG TEAM LEADER FIXED BLADE KNIFE WITH SHEATH
LEATHERMAN PS MULTI-TOOL AND LED LENSER K1 LED LIGHT SET
VICTORINOX SWISS ARMY ONE-HAND TREKKER MULTI-TOOL KNIFE
VICTORINOX ALPINER KNIFE
LEATHERMAN REBAR AND MICRA MULTI-TOOL SET
SOG FIELD PUP II KNIFE WITH LEATHER SHEATH
SOG FIELD PUP II KNIFE WITH LEATHER SHEATH
RINEHART RHINO BLOCK ARCHERY TARGET
SOG BLINK BLACK TiNi FOLDING POCKET KNIFE
SOG MICRON TANTO KEYCHAIN KNIFE
STOOL LOGIC SLPRO 1 FOLDING KNIFE WITH MAGNETIC LED
SMITH'S DELUXE KNIFE AND SCISSOR SHARPENER
…and many more deals!
Today's First Shooter – SOG FIELD PUP II KNIFE WITH LEATHER SHEATH
Suggested Retail Price: 70.00
Camofire Price: $28.35 – 60% OFF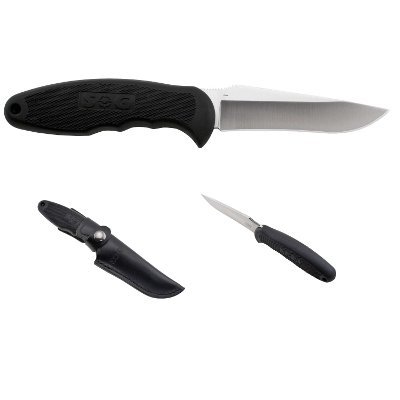 With its high gloss satin finish and Kraton molded handle the SOG Field Pup II has the look of an expensive knife but the performance of a hardcore outdoor knife. It's the right size and weight, suitable for a variety of outdoor sporting tasks.
SOG's trademarked finger grips and aggressive thumb notches on the back of the blade make the Field Pup II a real working knife. The Field Pup II can be kept and protected by a black leather sheath. For a beautiful knife that isn't afraid to work "pull the trigger" on the SOG Field Pup II.
—
Got something to say about the SOG FIELD PUP II KNIFE WITH LEATHER SHEATH? Speak your mind by commenting below.