KNIFE DAY:
Today we've got a pile of items in the line up that are all knives. Watch the timer on the Camofire homepage for each item to change as they will be changing often. But if an knife sells out the next shooter will show up.
Some of the items for today are:
SOG MAGNADOT FOLDING KNIFE (54% off)
KERSHAW NORTHSIDE HUNTER KNIFE (60% off)
SOG OPS M40-K FIXED BLADE KNIFE (52% off)
SOG FIELD PUP KNIFE WITH LEATHER SHEATH (55% off)
CRKT CRAWFORD TRIUMPH ASSISTED OPENING TACTICAL KNIFE (67% off)
BROWNING WHITETAIL LEGACY KNIFE (56% off)
SOG ARCITECH CARBON FIBER HANDLE KNIFE (57% off)
CRKT VAN HOY YEA GO ASSISTED OPENING KNIFE (68% off)
KERSHAW DRONE ASSISTED OPENING KNIFE (56% off)
SOG TRIDENT DIGI CAMO KNIFE (56% off)
Today's First Shooter: SOG MAGNADOT FOLDING KNIFE
Suggested Retail Price: $35.00
Camofire Price: $15.99 – 54% OFF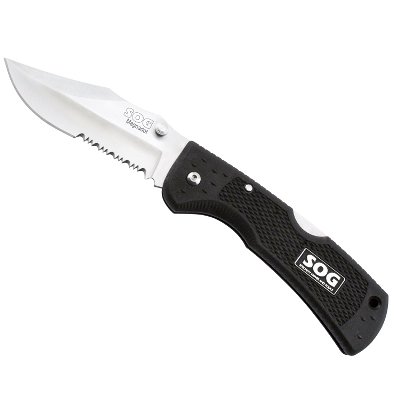 Description:
The SOG Magnadot Folding Knife is not a wimpy little folding knife that you will lose in your pack. When using this knife you know you have a fine tool in your hand. This smooth opening knife locks securely and when opened it is ready for use. The glass reinforced nylon handle is high strength, abrasion and impact resistant. The Magnadot features a 3.63 inch half serrated blade that when opened is ready for business. It also comes with a nylon belt pouch that makes it handy for packing on your belt or on a backpack strap. The Magnadot is the perfect knife for heavy use that wont let you down.
—
Got something to say about the SOG MAGNADOT FOLDING KNIFE? Tell the world by commenting below.