KNIFE DAY:
We've brought back another KNIFE DAY today. The first deal will go until 9am (MST) and then after that each deal will either change on the timer OR if it sells out before the time is done it'll automatically move on to the next deal. There should be a new deal every 90 minutes so check back often throughout the day and be ready to pull the trigger.
The deals for today are:
SOG FIELD PUP KNIFE WITH LEATHER SHEATH (54% off)
SOG FN-10 FOLDING CAMP SAW (52% off)
CRKT VAN HOY ON FIRE POCKET KNIFE (67% off)
SOG WOODLINE FIXED BLADE HUNTING KNIFE (55% off)
CRKT TINY TIGHE BREAKER ASSISTED OPENING (71% off)
KERSHAW ECHO FIXED BLADE KNIFE (60% off)
CRKT VAN HOY YEA GO ASSISTED OPENING KNIFE (69% off)
SOG PENDULUM KNIFE (53% off)
BROWNING WHITETAIL LEGACY KNIFE (55% off)
SOG SOGZILLA KNIFE (58% off)
SOG TRIDENT DIGI CAMO KNIFE (56% off)
SOG FLASH II (54% off)
Today's First Deal: SOG FIELD PUP KNIFE WITH LEATHER SHEATH
Regular Retail Price: $62.25
Camofire Price: $28.66 – 54% OFF Retail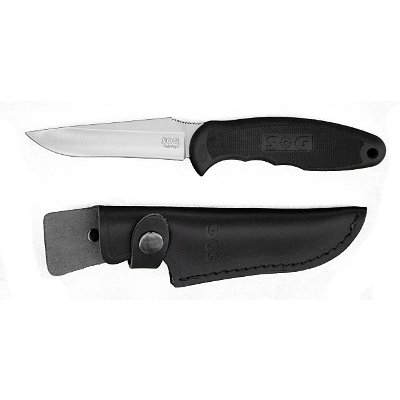 Today's First Deal Description:
Looking for that perfect fixed blade knife for big game and fish cleaning that won't slip in your hand when wet and feels like it was built by hunters for hunters? Welcome to the Field Pup from SOG. It's a beautiful knife with its high gloss satin finish, typically found only on very expensive knives.
It's the right size and weight, and you'll know it the moment you grip it in your hand. It's comfortable to use with its slightly yielding Kraton molded handle that form fits the full tang blade. SOG's trademarked finger grips are combined with aggressive thumb notches on the back of the blade, making the Field Pup a real working knife. The blade is also protected by a very nice leather sheath.
The Field Pup can be seen in the Prepared to Survive DVD that was produced by Lifeview Outdoors. Even though it's a movie star of a knife, it's right at home in a hunting pack or truck for any use the outdoors can serve up.
—
Got something to say about the SOG FIELD PUP KNIFE WITH LEATHER SHEATH? Tell the world by commenting below.