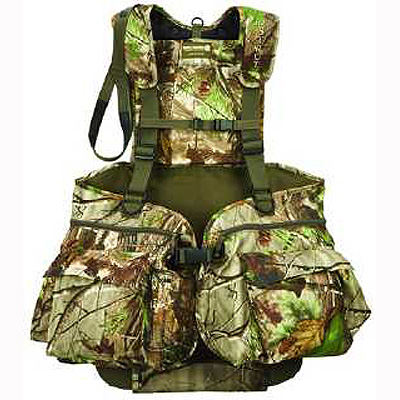 Product: HUNTERS SPECIALTIES S.U.V. SPORTSMEN'S UTILITY VEST
Regular Retail Price: $58.73
Camofire Price: $27.55- 53% OFF
Description:
The HUNTERS SPECIALTIES S.U.V. VEST SPORTSMENS UTILITY VEST is stacked with features and pockets that it'll take you an entire Turkey season to find them all. This camo vest has a number of web straps and lots of pockets for storing turkey calls and gear. Two pan call pockets hold friction calls with outside pockets to hold a box call and gobble call.
For safety it comes with an orange safety flag that stores in the back but can slip through a slot and hang down on your back, letting other hunters know you're there and have staked out your territory.
There is a nice triangle seat that folds down from the back to keep your rear dry, comfy and awake so you can focus on calling in a big Tom. The SUV is built with a soft and quite material but it is a heavy duty construction that will last. The boys at H&S really did it this time – the SUV is the real deal and will make this Turkey season all the more enjoyable.
—
Got something to say about the HUNTERS SPECIALTIES S.U.V. SPORTSMEN'S UTILITY VEST? Tell the world by commenting below.